So, Jane. going out of business and all has amazing sales lately and me, being a cheapo and all, got some coupons and decided to go shopping. I am now a proud owner of 3 Jane blushes!!
*image quality sucks! I miss my photoshop! Had to use my crappy Paint....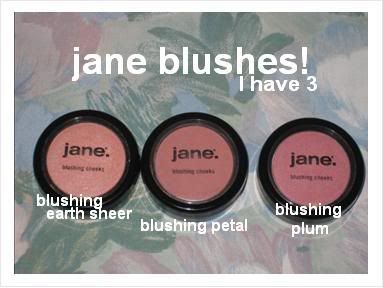 Blushing petal is matte - which is so awesome. It's a cool tone pink though so it won't warm up your face. Looks good for winter.
Blushing earth sheer is a lighter peachy pink color. Pretty shimmery (but I feel like the shimmer dies down a little after a while). Very light so it won't work on darker tanner skin tones.
Blushing plum is awesome! Plum is not like the actual fruit where it is like a bruised purple. No, it's really bright fun pink! Perfect for spring and summer. I like it. A bit shimmery so beware.
I find that all these blushes are pigmented and they are all last a while. I honestly recommend them especially now w/ a huge sale and all. I got Earth Sheer and Plum for 0.50 cent each b/c of the coupons. So be on the look out!