OMG, I don't know why my internet has been so slow lately!! It took forever to load this page. Anyways, now that my busy week is over, I now I have to post a little bit. I had to wash my brushes the other day and I wanted to make a post about it just because... I dunno. Well, this is how I clean my brushes and it's worked out well for me thus far.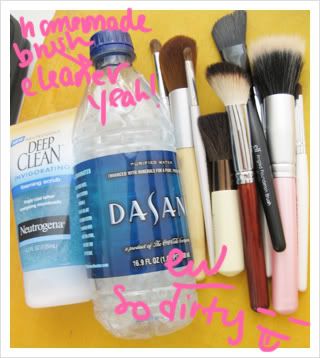 This is what I use. The bottle of "water" is the cleaning mixture that I learned from
Enkore's Channel
. I love using it b/c after wards, my brushes smell nice and they're clean and just really awesome!
Then also, I was watching Pursebuzz talking about using a facial scrub that she doesn't like to deep clean her brushes and I realized I also have a scrub that I don't like. So that's what the Neutrogena face scrub in there is for.

So, I first pour some of my brush cleanser mixture in a little bowl. Enough to dip my brushes in but not a lot! Then I would take it and wipe it on a piece of paper towel. Then I would put some of my scrubs on there and just get into the bristles and scrub! Then rinse w/ water and hang them either upside down or on the side. Never dry them just standing straight up b/c that might ruin the brushes.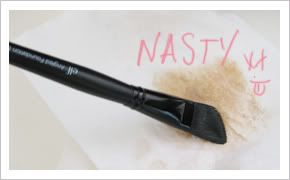 My foundation brush is always the dirtiest!
See how my skunk brush from Coastal Scents has the dyes coming out. This is the 2nd time I've washed it.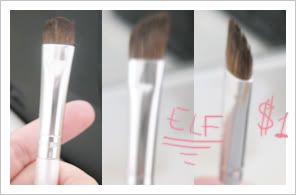 Here is one of my favorites E.L.F eyeshadow brushes. It is the eye defining brush and it is so awesome b/c it is slanted. It is multipurpose. You can do so much with it.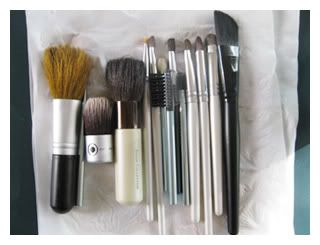 Let them layout to dry... this is an old pic. I have a bit more brushes (the coastal scents ones) since then.