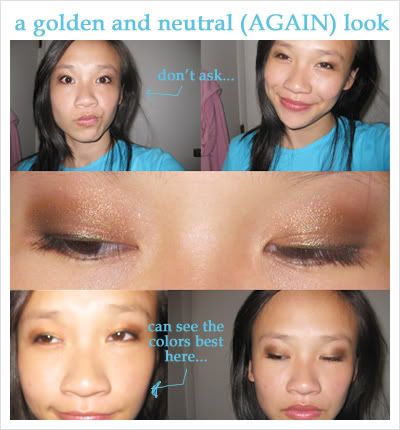 Yes, I love neutral looks but I wanted to spice things up a little! For some reason, I couldn't take a decent pic to save my life right here.
Products used:
Lancome shadow in Bikini Golden
E.L.F shadow (the coppery one) in the quad BUTTERNUT. Man, have I been using that quad like crazy?
Revlon Colorstay eyeliner in Blackberry
Max Factor 2000 Calorie Mascara
Revlon Mineral Mousse Foundation in Light/Medium
Maybelline Moisture Extreme Lipstick in Raisin Rum
Revlon Colorstay Mineral Lipglaze in Everlasting Blush
*See how my forehead is darker than my face... it sucks!
I'm back. Summer's here and look out for so much more beauty posts!!

*emoticons gotten from
Neskaya.net