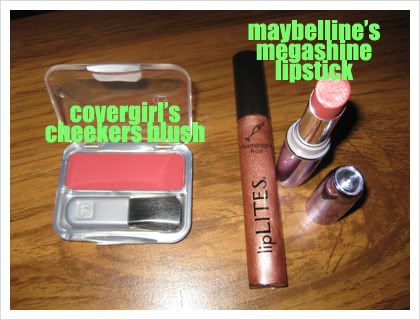 Dollar store find.
The lip products aren't the best. That is the Bonne Bell Lip Lite in Champagne Frost. The problem with it is that it's thick and kinda drying.
I don't like that Maybelline lipstick at all.
However, the best thing that I got is that blush in I think "Deep Rose". SOOO PRETTY!!! SOO PIGMENTED!!
I think it looks nice now or even for the winter when I'm a little paler. Winter you want that "I just went to hang out in the snow" look so this is really good! LOVE it!
Also, I'm having a major reaction to and I'm pretty sure an eyeshadow. The weird thing is, I haven't bought any new eye shadows in awhile and the ones I used and I suspect are OLD! It sucks b/c my mom's all... what's wrong w/ your face?? I told you not to wear too much make up blah blah blah. Oh well, hopefully it'll fix itself soon enough.