I think I might have found a really fantastic one that you guys might be interested in b/c it is so easy to use and it is CHEAP!
I'm talking about: Jordana's Incolor Fabuliner in black!!

I don't know about you but liquid liners have always been a struggle for me. And I wouldn't really care to learn because I love using regular eyeliners and even shadows for eyeliners... but every since I paid a bit more attention to celebrity make up, I totally love the way Taylor Swift (not a big fan of hers but I do like her make up) and Katy Perry pull of the winged liquid liner looks: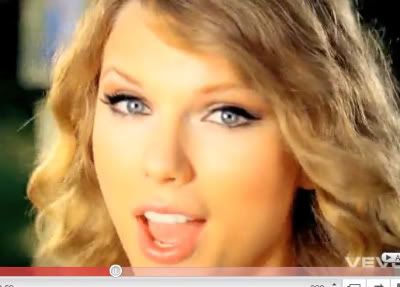 ** Youtube.com
** Google.com
I wanted that nice smooth black/dramatic liner so much! Since I am a beginner at this, I want to get the technique down before I try something more expensive so I used products from WnW and Jane.
I tried using gel liners (Jane and WnW) because those apply easier but I find them to be kind of drying sometimes and doesn't give that smooth look you'd get with liquid liner.
I've also tried using a WnW liner but hated the application process of having to dip back into the ink.
So I decided to venture out and look into pen liners!! Yes, who came up w/ such a smart idea! Well I was at Walgreens purchasing some needed things and I decided to pick this up. The website shows that there are two colors: black and brown. I wanted black! I picked this up for $1.99 at my local Walgreens.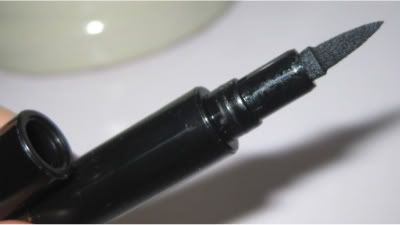 As you can see, the tip is very pointy so you can make precise and thin lines if you want. But it can be thicker if you use more of the side instead of just the tip.
I love that it goes on black! Yes, I don't have to go over and over and over with the pen and I still get a nice black line. The tip allows me to have a nice control for the wing (still something I need to practice on though...) and the application process was so painless! It's like using a regular eyeliner!! So happy :)
Here's the weird thing: it can be kinda smudgy... like I would put it on the back of my hand, rub, and it will come off. But since I don't rub my eyes like I would rub the back of my hand, this liner stays on all day for me! So I don't think it's one of those crazy magical liners that stay on forever - but it does have fantastic lasting power. It dries quickly as well so you don't have to wait long for open your eyes!
Last but not least - I love love that it is soooo easy to take off! Thank GOODNESS!! I don't have to spend hours trying to rub this liner off me!
To summarize: I love it for it's easy application method, lasting power, and fast clean up at the end of the day.
I seriously recommend anyone who also struggle w/ liquid liners. Here are some pictures of my amateur liquid liner use... I will work on it.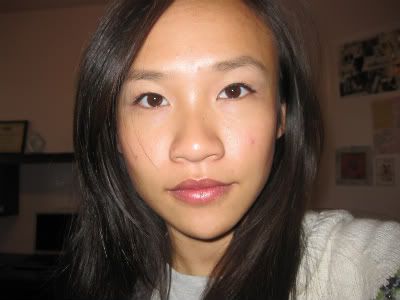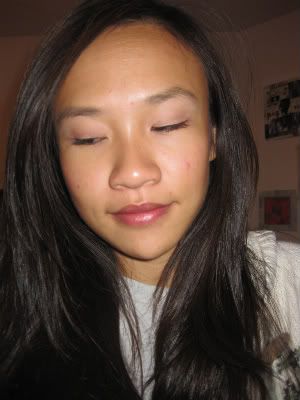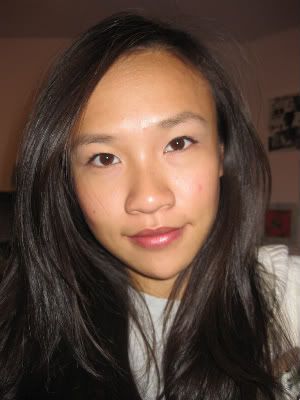 What do you guys think? Have you tried this before??
Now I'm kind of interested in this tiny brand, Jordana... I hear their lip glosses are really good too.




♥ NBC comedy nights are awesome - I really like 30Rock, The Office... but new shows like Outsourced and Perfect Couples are quickly becoming my favorites
♥ Procrastination... ugh homework! You suck.
♥ Hey - tennis is not gonna go play itself!
♥ Neither will the piano...
♥ Craving strawberry shortcake gelato that I had at the mall one time... oh it was so good!
♥ Want to go eat dim sum... I've been hearing too much about it.
♥ Can't wait for warmer weather to come... it's hard for me to type right now since my fingers are FROZEN!
♥ I'm not a lip gloss girl but I have been wearing my Revlon Super Lustrous lip gloss in Life's A Peach a lot lately!

Thanks for reading! I got more reviews to come :) PS. Don't miss out on the CVS sales! Great great deals.