Here's a mousse, there's a mousse
Everywhere's a mousse mousse...
What I'm referring to is the Maybelline
Dream Mousse
line! I don't tend to buy makeup from the same line but looking through my makeup drawer, I found three of these Maybelline
Dream Mousse
stuff.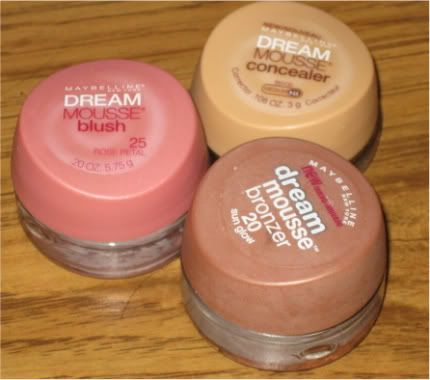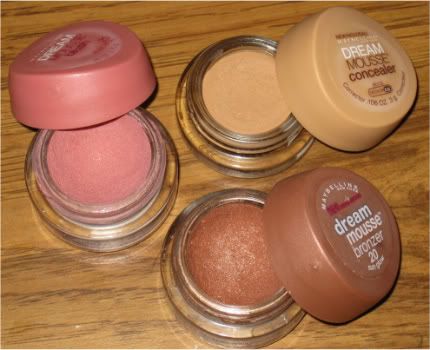 I have the Dream Mousse Blush in Rose Petal, Bronzer in Sun Glow, and Concealer in Beige.
The first thing that I love love love about these products is the texture!! DUH right! I love the mousse feel - so soft on your skin and I think it just blends so easily - especially the blush. As you guys can see, the blush and bronzer have been well loved - definitely a dip.
- I first got the blush last summer and I have really enjoyed it. I don't like that it has shimmer in it nor do I like that the staying power is not so great but I love using it as a light tint on my cheeks. It is such a natural glow. People might not think that I'm wearing blush - the only thing that would give it away is the shimmer! I also love using this as a base for my blush. Really fun to blend out because, again, the texture makes it feel like AIR!!
- Second, I swapped the bronzer in April (a bit before summer started) and I really enjoy it. It gave me like a golden glow so it worked so great as a highlighter! I think you girls that are trying to achieve that bronzy glow - beachy look. This is such a great highlighter for you. Again, best staying power is when a powder is used to set but not necessary. This is very shimmery and sheer though so it is not something you apply all over your cheek or your face.
- Third, I just wanted a concealer to match my skin tone and I decided to pick this up. I wanted a creamy texture for my face, unlike my other Maybelline Mineral Power Concealer which is more of a liquid and it is too light for my face. Let me tell you, this baby has been used to death this past few weeks. I don't know what happened but I have been breaking out like crazy and I had so many pimples and nastiness to conceal. I think it has a decent staying power when set with a powder and I use Maybelline's Dream Matte powder.
I have not tried the foundation or the new Maybelline Smooth Mousse - let me know if you have and if you like it or not!
Hopefully this helps you guys decide what to get at the drugstore. The only other line that I tend to reach for a lot is the Revlon
Colorstay
line.
So what about you guys??? Is there a line that you guys really reach for at the drugstore... or anywhere really???
--------------
Also, I just wanted to let you guys know about another giveaway!!! PoorCollegeStudent has a beauty blog called
Maquilagem Masstige
and I really enjoy reading her blog. She has fantastic skin care and haul posts!! Please check out her giveaway - the prizes are very exciting.
--------------
Besides all that madness - how is everyone? I really wanted to update but got really busy this entire weekend!!! It is insane... I had time on Friday I guess but man, I was just a busy bee...
Also, school is starting for me. I'm doing a full week of Pharmacy school orientation right now and Monday will be the first day of school. I am apologizing in advanced right now that I probably won't update as often as I did in July. I tend to not update that often (not as often as I want) anyways, but still, SORRY!!!
K, have a great day.