These are the products that are pretty much used up this summer. I just get so happy when I finish a product so I just wanted to finish these awesome "conquests" with you!!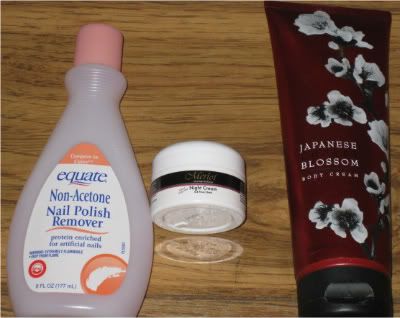 1)
Equate non-acetone nail polish remover:
Will not repurchase.
It took me FOREVER to clean my nails with this. RIDICULOUS and it smells weird and I'm pretty sure it made my nails really dry. Just horrible quality. Don't get this!!
2)
Merlot Night Cream:
Might repurchase.
I bought 2 travel size and they both lasted me 2 months. I don't know how I feel about it yet... I might buy another travel sample just to make sure because the biggest size this large. But I did write a review on it if you are interested!
3)
Bath and Body Works Body Cream in Japanese Cherry Blossom:
Repurchased.
I really like this scent and it actually took me a couple of years to finish. I really want the eau de toilette in this scent but I did get the body lotion in this scent during their semi-annual sale.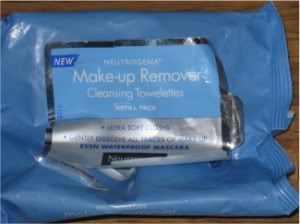 4)
Neutrogena Eye Makeup Remover Cleansing Towelettes:
Will not repurchase.
Took me forever to take off my eye makeup especially mascara (even non-waterproof) and gel liners and such. Eventually it all dried up on me so it was worthless anyways. I was hoping this took off all my makeup not just my eye make up but it was too oily to use all over my face. Overall, I've found something better --> keep reading.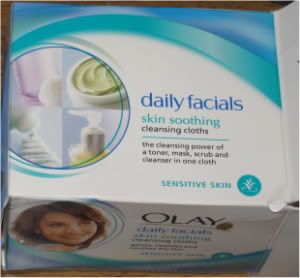 5)
Olay Daily Facials Cleaning Cloths:
Repurchased.
So I think I might have found my HOLY GRAIL cleanser product. This is my cleanser and makeup remover put together. Best part is that it takes off mascara and gel liners really well - way better than the Neutrogena one. Also, it simply lathers up by getting wet so it's not gonna dry out on me. I just love using this because it makes my skin softer and it has made my skin care routine so much quicker. The fact that they are cloths allow me to scrub my face better than just using my fingers or "micro particles". I just really enjoy this product and I really think that my skin has been acting way better than it has been doing for a few weeks. The only sad thing is that there are only 25 cloths in a box and it costs $6 a box... that can get pretty expensive BOO!

6)
CoverGirl Professional Super Thick Lash:
Might Repurchase.
I like this mascara - it is a nice mascara between dramatic and natural. This volumizes and somewhat lengthens but not so much that would give you a false lash affect. I think this is a nice basic mascara but, since there are so many other mascaras out there, I think I'm gonna try out more mascaras. Who knows, maybe I will buy this again if I can't find a better mascara that gives me a good look without being too dramatic.
7)
Maybelline's Full and Soft:
Will repurchase.
This is one of my favorite mascaras. THIS IS PERFECT for an everyday look - imagine waking up in the morning, looking exhausted and this mascara will help your curled lashes look more defined and lengthened. It will really help open up your eyes and help you look more awake. AGAIN I really need to try out more mascaras before I go back to this one.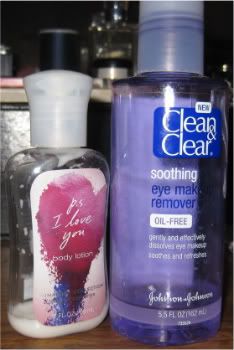 These are pretty much done...
8)
Bath and Body Works lotion in PS. I Love You:
Might Repurchase
I like this scent but it is a bit strong for me. As a body spray it might be good so it's not so strong. This actually reminds me of a better Dior's perfume that my mom has.
9)
Clean and Clear Eye Makeup Remover:
Will Not Repurchase.
I don't like that it takes FOREVER to remove mascara - I mean seriously!! It took my Olay's cleansing cloth like half the time and it rarely leave a trace under my eyes unlike this makeup remover.
WOW - this post took WAY longer than I expect. Gotta go and sleep now!!!!!
SORRY FOR NOT POSTING FOR ALMOST A WEEK. Writer's block... again.