So last week I had to switch from purse to backpack and I got a chance to clean out my purse for the first time in MONTHS! All summer long, I've been carrying around this bag and let me tell you that I end up putting a lot more things in here than I thought!
This is my PURSE :) I found it at TJ Maxx one day for $10 and I was like "SWEET!". This bag is seriously falling apart due to my excessive abuse. I take this thing with me everywhere this summer and even on vacations too. Pretty much when I'm not using my backpack, this is my go to bag. Poor thing... I think I'm gonna need to replace it soon though. I am starting to see holes form in the corners. Very sad.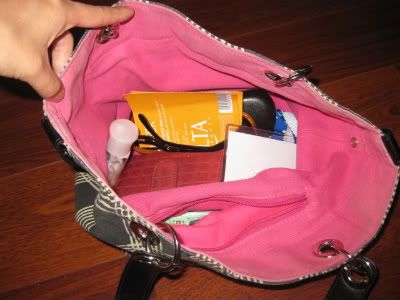 As you can see, this thing is pretty roomy. It isn't too big or too small. I feel like it can carry so much but I can still manage to find stuff... know what I mean?
So let's see - boring stuff first. My badge for Pharm school, reading glasses (I paid $10 for it too... not very fancy), sun glasses (I got them at ROSS for $6... they are HUGE but I managed to pull them off... somehow), wallet (you guessed it - got it at ROSS for cheap price; it is starting to fall apart on me so I'm planning to purchase a new one soon! Besides Driver's License and such, it is filled with a lot and a lot of receipts!), hair clip (that I don't use), and Ulta coupon (that I haven't used yet...)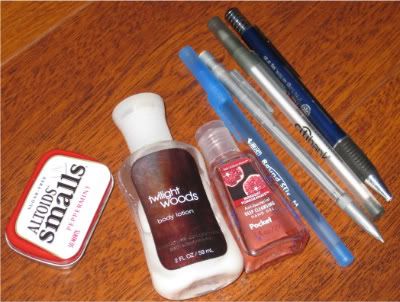 Getting a little more interesting is my Altoid mints (I got the mini version because I thought it was so cute!), Bath and Body Works' mini body lotion Twilight Woods (love love love this scent!), B&B Hand Sanitizer in Midnight Pomegranate (a good scent as a hand sanitizer but not my favorite as far as body spray or eau de toilet), PENS!, and one PENCIL.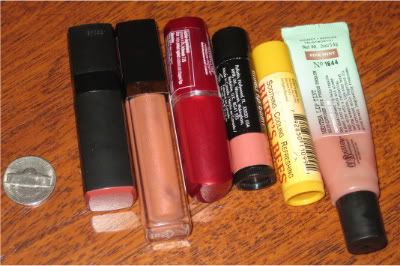 All of these lippies... yeah, I don't know how I convinced myself that I need to lug all this with me... but I do. Click here to read about it!
That's pretty much what is in my purse. Sometimes I have a book in there, a light jacket, water bottle... but overall, this is what I have with me at all times!
What about you guys? What is the essential thing you have in your purse?
Thanks for reading, have a good day.