I am a beauty addict! Ha ha - well, maybe not addict but I do love make up. How did I realize this? Well, I realized this when I looked at my purse and noticed that...
I have way too many lip products.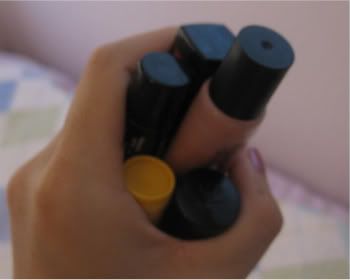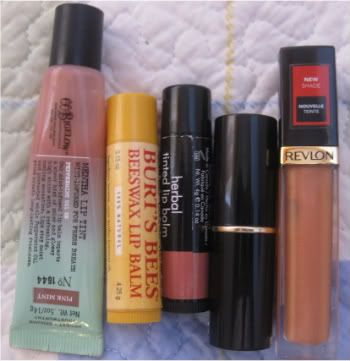 No really - do I really need that many items with me?
CO Bigelow lip gloss which I used to use all the time for moisturizing my lips.
Now I use my Burts Bees lip balm b/c I just wanted a lip balm without the shiny effects.
Palladio Herbal Tinted Lip balm - I mentioned this was one of my favorite colors for summer. Well, it isn't really moisturizing and it is kinda sheer. Nice to have for just any everyday use.
Revlon Lustrous Lip gloss in Life's a Peach - Another summer color favorite. Love this - although I hate applying lip gloss. I don't know about you but I hate having to pull out the wand and finding where your lips are. I'm just so clumsy at doing that without a mirror!
Finally, my Lancome Lipstick in Mars - one of my favorite reds and I just adore this lipstick. I usually switch out my lipsticks though. I had this for a week and now I've moved on to my Maybelline lipstick in Rosy Glow.
Next thing you know, I'll be pulling out all sorts of make up my my purse. Ah!
So what about you guys? What is in your purse that definitely qualifies you as an make up lover?
So, has anyone been watching the
World Cup
? I know soccer is not the most popular sport in America but honestly - if you are a girl, this is like a little ray of sunshine on cloudy days...
Okay, that was a bad analogy - what I'm talking about is
THE MEN!!!
Here's some that I've come to enjoy watching:
- From GERMANY: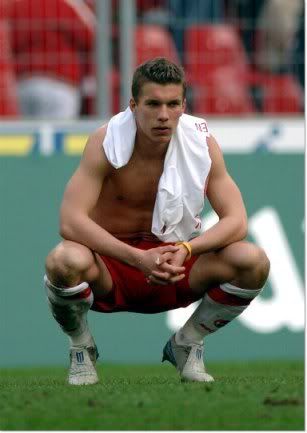 Lukas Podolski
- From UNITED STATES: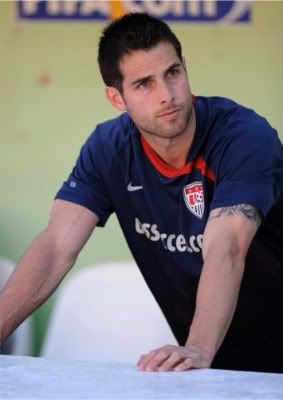 Carlos Bocanegra
- There are tons more but those are the only ones that I know right now! If this hasn't persuaded you to watch, I don't know what will.