Rimmel lipsticks, in general, has gotten a lot of rave from many bloggers and youtubers. As I read the various reviews on Makeup Alley and such, my curiosity is sparked and I was determined to purchase one of my own and write my own review. As luck would have it, these babies were 50% at Walgreens a few weeks ago and I jumped immediately to the opportunity.
I picked up:
Dusty Rose
.

Now don't be fool - the actual lipstick is a lot darker than this picture. How I would describe this lipstick is a neutral but has a bit of a mauve and rosy pink undertone (more mauve though). I would say that this is one of those things people call: MY LIPS BUT BETTER (MLBB) color. So, I would say that it is darker than some of you - especially people with fair skin.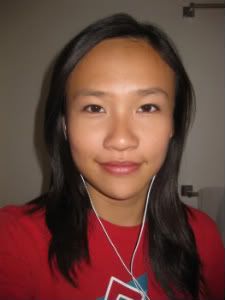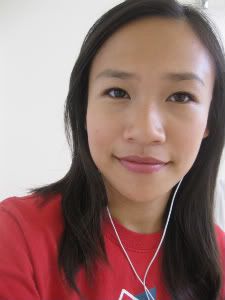 Flash // No Flash
See how my lips look a bit darker w/ no flash? The actual color comes off more creamy than glossy. Even though I would probably use this for everyday, I think it is more suitable for special events/nights and would look great with minimal make up.
So does the title "MOISTURE RENEW" hold up to it's name? YES, I think this lipstick is really moisturizing. It glides on easily and I think it is very creamy. As far as pigmentation goes, I can imagine some other colors being sheer but buildable. I chose a darker color so I didn't see any flaw in pigmentation. But I definitely love that it has SPF 18 and is moisturizing. Staying power on the other hand is not the best - it is actually just normal. I think it would last 1-2 hours on my lips if i don't eat and drink.
The only thing that I don't really care much for is the packaging. I don't like the purple and the lipstick container seems a bit flimsy. Now, I have had 2 other Rimmel lipsticks before - both in much older containers; one in Birthday Suit and one in Latino.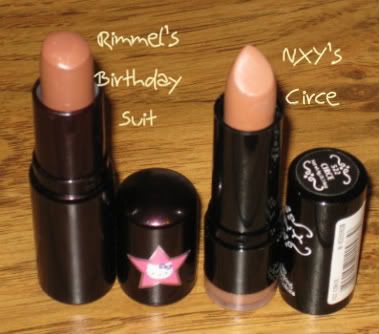 This picture shows Rimmel Lasting Finish Lipstick in Birthday Suit
I have to say that compared to the older lipstick, smell and taste are pretty much the same. I am okay with the smell but I hate the taste. Overall, not much of a change from the old lipstick except for the fact that it is a lot more moisturizing and has a bit more color selection.
So I guess what I am trying to say is that yes, I think I would reommend this lipstick. I think I might try other shades myself. I think I was mostly disappointed with my choice since I was hoping to buy a new summer shade. Also, I noticed that I already have similar looking lipsticks...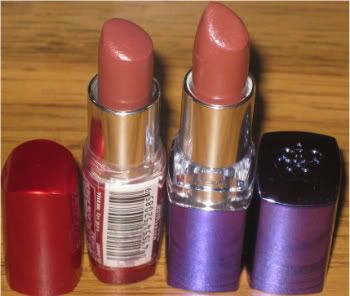 Maybelline's Moisture Extreme Rum Raisin // Rimmel Moisture Renew Dusty Rose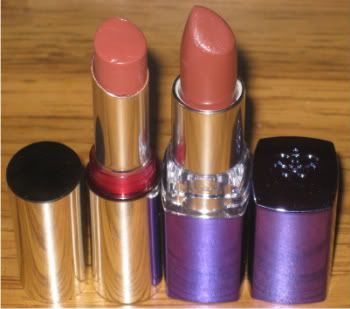 L'Oreal Color Juice Stick Chai Love You // Rimmel Moisture Renew Dusty Rose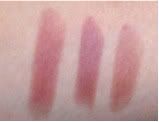 Chai Love You // Dusty Rose // Rum Raisin

I guess it is pretty easy to see that Dusty Rose is the darkest one. Well, at least I hear that Sunset is a good dupe for a MAC lipstick so I that might the next shade I try.
Let me know which shade you like best from this line! I would love to hear your opinion.