I don't know how but I've recently got really really into soccer - especially the WORLD CUP!!
** Did anyone see Argentina vs. Greece?? Lionel Messi #10 - AMAZING!!!!!! He is... ugh... just... there are no words to describe him!
ARGENTINA all the way BABY!
** But anyways, America is playing against Algeria tomorrow and
WE HAVE TO WIN OR ELSE WE MIGHT NOT BE ABLE TO MOVE ON!
I gotta say that I'm so proud of our guys right now. They are fighters and I just love it!! We are definitely the underdog - because we are not a soccer nation at all. But the fact that we managed to tie with England and almost defeat Slovenia is saying something. I love the fact that we were down 2-0 and then fought til the end. Should've won that game... but whatever, America still rocks! Still has chance!
So back to make up. I was so inspired by all the insane fans who painted their faces... so... I gotta do what a make up lover does...
PAINT HER FACE TOO!!

****

PICTURE HEAVY

****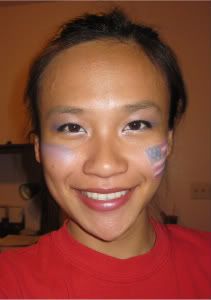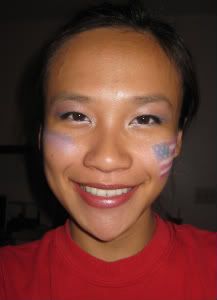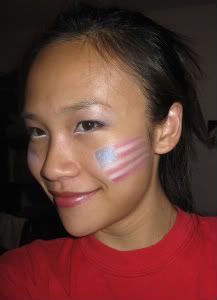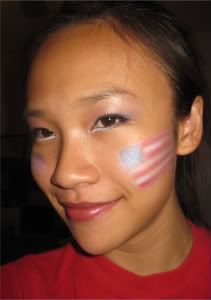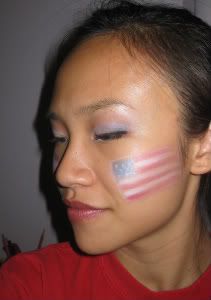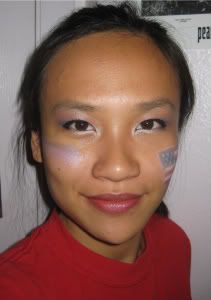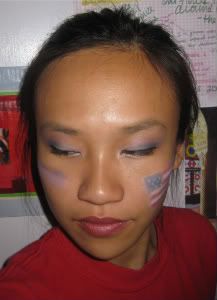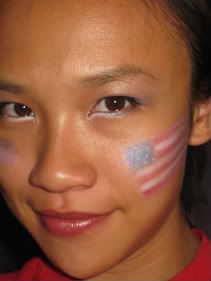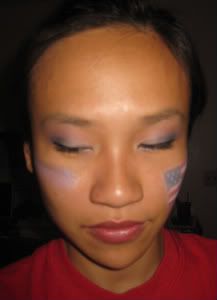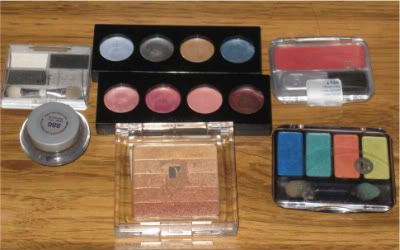 I didn't have face paint so I used eye shadows... and BLUSH! American flag is pretty easy to draw... except the first time I made it backwards. Ha ha!
I LOVE using that Physician's Formula highlighter! I used it over the flag to give it a glow and as brow bone color. This is such a great product! Very pigmented... and gives a golden glow!
The blush is CG's cheekers. Extremely pigmented! If I didn't have this, I'd use lipstick or something.
Matte white is from the ELF quad. LOVE this color - extremely pigmented.
The cream shadows from Revlon was for me to lay down the base for the colors first so that the colors will stick to my face better! I also used a white eye liner from Prestige that I didn't take a picture of to outline the flag.
I had so much fun creating this look! Hopefully I'll get to wear it again when the day comes to root for the them in the finals... key word is
HOPE
:D
------------------------------
In other news, I am trying to understand and relate to you guys better. Please vote and check out the poll at the top right of the page! Please vote!! These questions will be random and won't always be make up related. It's just a fun little questionaire I have for you all.
The last one went like this: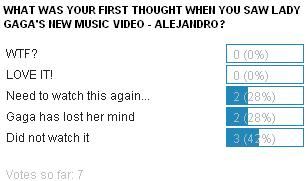 - I guess most of you didn't care too much for Lady Gaga's music video or even care to watch it!! Ha ha! Good to know.