Yeah, so I am writing AGAIN! WHY? Well, let me tell you: I have pretty much nothing to do right now... ha ha... Pretty much all weekend (except for Saturday) I didn't really have any plans.
But I did exercise! Swimming on Friday and then tennis on Sunday... by the way, let me tell you that I am NO ATHLETE!! Why? Well last night I was playing tennis with my sister and the ball came and I hit it back but I didn't realize how close I was to the net so I didn't stop in time... yeah, so I was running towards the the net and I decided to just stop myself by kneeling down and so my face hit the net and I scraped my knees. I haven't fell down in forever or scraped myself like that in years... I kinda enjoyed it :D
We are going again tonight! ha ha! Watching the French Open really inspired me to play tennis and be active. I wish I can serve like those guys can... Andy Roddick - 135 mph serves on average... WTF?
Also, I have been reading my old posts and stuff... just skimming through to see what people like and don't like, what people respond to and whatever, and I realized that some of the things I say don't make any sense. I'm totally sorry about that... my mind is usually all over the place and this is why I hate English and writing essays...
---------------------
So, okay so this is the main point of the post:
SUMMER MUST-HAVE FOR CLOTHES:
- This is probably gonna be boring b/c I'm not exactly fashionable - I don't go out and get the stuff that is "in" for the season or whatever. I like to comfortable. Able to move around and run around and not have to worry if anything awkward is showing.
So, let me just get to the list:
1) T-SHIRTS
2) BERMUDA SHORTS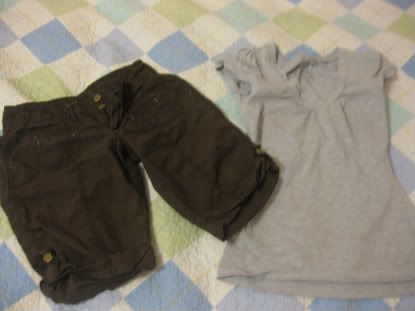 - I love T-shirts that are more a solid color and is has a lower cut than your regular graphic Ts. That way, I can still look more feminine and pairing shirts like that up with a nice skinny jeans would just make a great casual going-out outfit. Very versatile - great finds!
- I love bermuda shorts b/c like I said, I don't have to worry how short they are and if they are inappropriate or whatever. They are so easy to wear... just great for summer.
3) TANK TOPS and CAMIS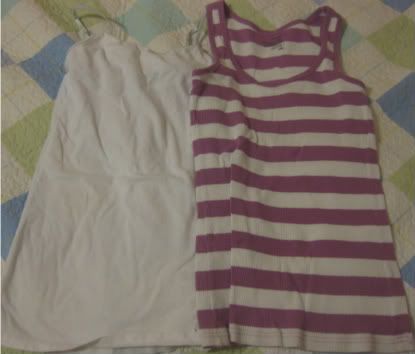 - Great for layering! Cami underneath and tank over... YAY - we have a great summer out fit. No worries if the tank isn't tight enough or shows too much. Whatever! As long as you are nice and cool and able to brace the summer heat, you're good to go.
4) LITTLE BLACK DRESS
- In my case it is more of a little navy dress - and this dress has taken me to all sorts of levels: formal outings, casual dinners, school... yeah I wear this EVERYWHERE! And it just works depending on what I wear it with - shoes, other accessories.
5) SANDALS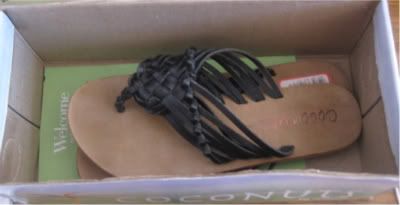 - LOVE THESE! I need more cute sandals that are not the plastic foam ones that are horribly made (from Target or Old Navy)... NEED THESE for summer... can't live without them.
-------------------------
So what about you guys? What are your summer must have clothes??
BTW - I just changed my layout and added a poll... please vote!
Thanks for reading!!
I actually have stuff to do the next 3 days... but I will try to regularly update. FUN STUFF!