So the only MAC eyeshadow I own is "Sketch". I do enjoy it but I wish it had a better texture - I wish it was softer. But I do really enjoy the pigmentation and the color is so easy to work with. I think it looks great all over the lid and also amazing as a crease color. I find that it is more interesting than a dark brown and looks great with colors that have purple/pink or peachy undertones. Anyways, I decided to just go with a smokey eye.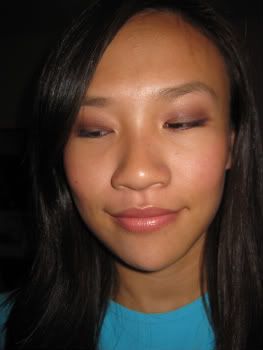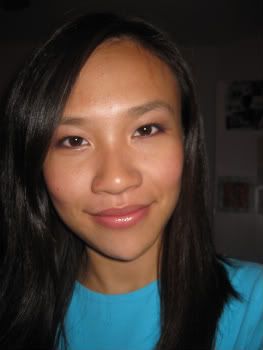 I don't remember most of the products I used but here's what I can remember.
Eyes: MAC Sketch - all over lid
Liner: WnW gel liner in Black
Mascara: Max Factor 2000 Calorie
Lips: Rimmel Birthday Suit and ELF lipgloss in Candlelight
Cheeks: WnW Pearlescent Pink (very pretty and pigmented!)
This is a short post but whenever I don't have time to do stuff, I just write a FOTD. But not to worry - I'm planning to do a few short reviews on the ELF primer and Zit Zapper. I'm quite excited to do these reviews!! I'll take some quick pics and, since I will have my tiny laptop with me at school, I can do them there during my breaks.
Well thanks for reading this boring little post. Have a great day.