Fall is here... and the best color for fall, I think, are purple toned shadows!!
Whether they are in taupe form, crease color form (dark colors), or pretty lid color form - purples are just really fun to have in my make up drawer. I tend to reach for them when I am getting bored with my browns and neutrals. I also think they make an eye look more feminine - just because they are PURPLE!
Now, sadly, I don't have any bright color purples :( But I do have a bunch of favorites that love to use and switch around.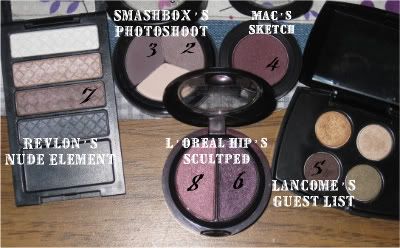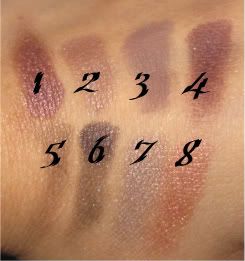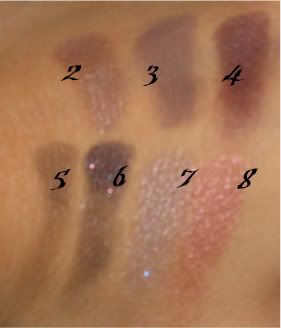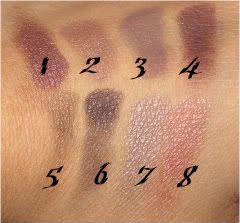 1) WnW Trio in Mojave Mauves (I forgot to take a pic!) - lovely burgundy color!!! It's actually sheer enough to look really nice in the crease - and VERY blendable!! Really great shadow - one of my favorites.
2-3) Smashbox Trio in Photoshoot - Really soft and pigmented shadows! The only problem with them is that they don't last too long on my lids... but they make AWESOME fall shades! I really like #3 - really good crease shade! It's also a matte shade which makes me love it that much more!
4) MAC's Sketch - must I say more? So many people love this shadow and it's because it looks so pretty in the crease! It's a nice color to have to just give your look something special. Browns move over, there's an awesome color in crease town!
5) Lancome's Guest List - I really like it in the crease - very very pretty! I also have a problem of this not lasting too long on my lids but pigmentation and blendibility is really great. Another shade that makes the eye look more unique.
6 & 8) L'Oreal's Sculpted - #6 is a darker shade - people compare this to MAC's Beauty Marked. It's really pretty because it has these glitter in it. The only thing that I wish is that it would be a bit softer and easier to blend. #8 is more pink than purple but also a nice girly color to have around.
7) Revlon Quad in Nude Element - this is a taupey color - something that I would totally wear all over the lids. However, this color is so pretty in the crease too. It gives a nice, soft, natural contour.
-----------------
That's pretty much what I have for you guys! Sorry I've been MIA (I finally know what that means BTW! SAD huh!) - I blame it on school :D
But like I said before, I haven't really bought much make up b/c of a major tight budget! But my mom actually bought me a mascara the other day - L'Oreal's Bare Natural! Very cool!! Thanks MOM!!
Thanks for reading!!!