This week has been the most insane, stressful, intense week EVER!! I had so much school stuff (exams, quizzes, practicals...) UGH! Plus my immune system is not doing very well - I hard a major sinus pressure headache yesterday! Horrible!
BUT THAT IS ALL OVER!! WHOOHOO!! Time to focus on my make up :D
(I almost did another "week diary" of what I wore and all that but I didn't end up wearing any make up at all :D. Plus with all my hard classes, I tend to rub my eyes a lot when I'm stressed out).
Anyways, first thing I'm gonna do is change my nail polish!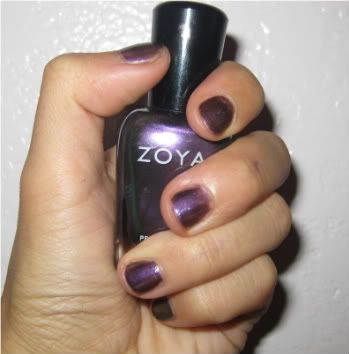 This is what I'm wearing right now (thanks to
Kalmo
), and I really really like this for the fall! I mean, it hasn't been that cold yet but is slowly but surely getting there. I've had this on for a week now (YUP- 7 days) and it hasn't chipped too badly. The only thing is that my nails are growing and so it just doesn't look right anymore - you all know what I mean. I've been meaning to get rid of it but I've been soooo busy!
So, more about this nail polish - it's got a nice consistency to it. Definitely need 2 coats (no more, no less... in my opinion). Takes a little bit for 2nd coat to dry. The brush is good but because the color was so dark, I had to be really careful with the edges of my nails just because I don't want a mess on my skin. Overall, I really like it. I would definitely prefer it on my fingers than my toes...
---------
Also, when I study, I usually give myself little breaks (10-30 mins). During this time, I either eat, watch TV or rest... or play w/ make up. So, this is a look that I came up w/ my NYX Rootbeer. I've had this for a long time but never played w/ it... until now :) Also, I wanted to try lining my waterline and making my lower lash more dramatic - which I never do normally. I guess you can say this is sorta inspired by Emma Watson's Burberry ads - really dark liners. But I can never go that dark - even though I wanted to... I just couldn't do it.
BTW - I'm starting to really like Emma Watson... and her sense of style. I used to hate her but she's definitely grown up and really classy and pretty. I love it.
Anyways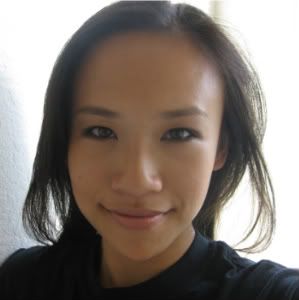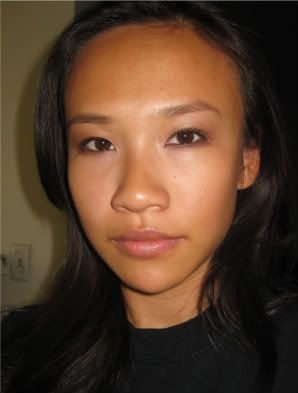 Okay okay... one more: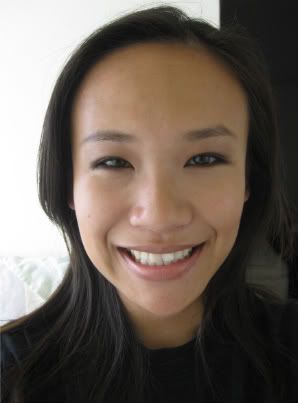 ** Ha ha - what a forced smile/laugh :)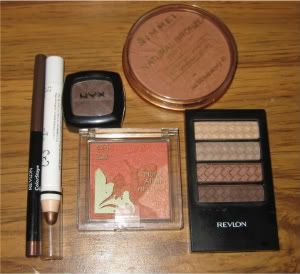 Yes! That Revlon quad is new! Yes, it is brown... and yes, mostly matte colors YAY!! It is called "coffee bean" I think. I love that coppery color before the darkest colors. Pigmentation is okay... the two darker colors have better pigmentations. Overall, not a bad quad. Got it for $3 at Walmart.