I like to catagorize things... put them into sections or whatever (I'm in science - its the only way to organize anything!). So, here are some catagories - I try to make them interesting too :D
A product that I've heard so many people raving about it, but I just don't feel the same
: NYX's round lipstick in Thalia. All the popular gurus on youtube love it, but when I put it on... it makes my lips look like a really horrible shade of purple. It might have something to do with my pigmented lips and the cool undertone of this color.
Anyways, I kept it because I do want a pink nude color... then I found something much better and I swapped Thalia away faster than you can say "yay!".

** Victoria's Secret lipstick in Sweet Nothing - got it when it was 75% off :D
** Sorry for the tiny pic. I just didn't want to waste a pic of just a lipstick.
--------
One product
(that is not a fragrance)
that has the most amazing smell is
:

Lancome lipsticks smell amazing! Another lipstick! I know this picture is bad and tiny... sorry about that :)
--------
A product that I was
pleasantly surprised
with: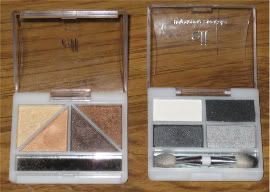 ** So cheap and yet I find so many ways to use these. My favs :D
Disappointed with?
** don't have a pic but St. Ives Apricot Scrub; suppose to help w/ acne, black heads and stuff. Has salicylic acid to prove it can do this but it doesn't help me at all! Besides my skin feeling incredibly soft, it doesn't do anything else! I'm kinda sad about that. I rarely use it now b/c I hear it is rough on the skin... which I kinda agree.
---------
A product I use everyday
(besides moisturizer b/c that would be too obvious!):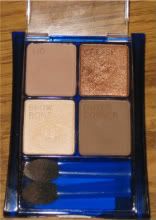 ** I use the darkest shade for my brows b/c its nice, dark, and matte :D Easy to put on and blend with... yeah, I already talked about this.
--------
A product I'm overly protected with:
** One of my favorite colors EVER! And I only got it b/c my mom got a gift w/ purchase at Lancome so chances of me getting again is... slim. I remember my mom took this from me once and I thought I lost it and I was so sad! I even called my friend and asked her if it was in her car. I really love this lipstick... or unhealthy obsession... either way, I will use this until there's nothing left!
--------
A product that has been around for <2 years
** Another tiny picture of this toner my mom bought us a long long time ago! I would say... 2 years (maybe a little older)... anyways, I don't think it has gone bad or anything but I feel like I should try to finish it up eh... It does work to remove dirt from pores but I think the strong alcohol in this dries out my skin.
--------
A make up brand that I haven't tried out at all
is L'Oreal. Besides the Chai Love You lipstick... I haven't bought anything from this line.
--------
So, this was an extremely random post! But no worries, I have better ones out there soon! But for now... ToOdles!