I've been seeing this post everywhere and I just wanted to let you all know a couple of products that I constantly reach for this summer!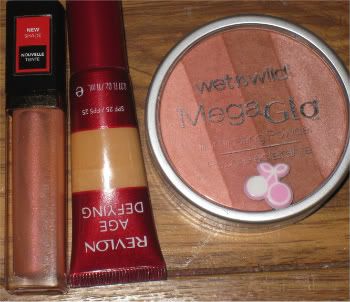 1)
Revlon Age Defying Moisturizing Concealer
in medium: I don't like using foundation anyways and this concealer is just so nice and smooth. Best part is that it's moisturizing and a bonus- SPF 25 baby!!
2) Revlon's Super Lustrous Lip gloss in Life's A Peach: First, just wanna mention the SPF... second, just want to point out the awesome moisturizing ability! Third, just wanted to tell you about the shine quality, staying power, and really pretty color!!!
3)
Wet N' Wild's Spotlight Peach
: I don't know if this is discontinued or not but I LOVE this color! I makes me look healthy but in a "I've been in the sun all day" kinda blush! Which is just perfect for summer I think!! I've had this blush since 2009 and it is still not going away!!! And I swear, I use it everyday for summer for past two years! It's crazy.
4) Bath and Body Work's scent for the summer: Bali Mango Fragrance Mist. OMG- even though I already have a ton of body spray that I need to use up... I just couldn't pass this up. It smells so nice, sweet and just like a the perfect SUMMER. YES, it smells like "the perfect summer". Haha!!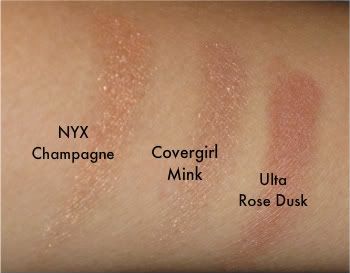 5) Eye brightening colors - I put these shades all over my lids with some black eyeliner and I just find that it is such a good look for summer. Very shimmery, very pretty but classy and simple at the same time. Those are my three favorite shades to do that look with.
Ulta's Rose Dusk is definitely the coolest of them all because it has a like a rosy undertone.
CoverGirl's Mink is so pretty because it is the most reflective.
NYX's Champagne is my oldest, most used, and most loved! It's got this gorgeous golden shine.
What are some of your favorites???
♥ It was my birthday on Wednesday! It was very nice. My parents... got me a new purse :) AND a mascara... that I'm kinda excited and yet very scared about!!! LOL!! You'll see.
♥ As a birthday celebration, I went to see Harry Potter and the Deathly Hallows Part 2 last night.
Let me just say... I CRIED. I cried 20 minutes into the movie and the tears pretty much just kept coming. I stopped crying in the last 30 mins but it was just... a great ending!
Why people make such a big deal? - honestly, I think we all fell in love with the characters. I met Harry Potter when I was 11 and I just grew in love with his world, his friends, his enemies, his quest - his magical world. It's different than Twilight because it is not just about two people. Harry Potter is about entire world; designed with wild imagination and careful creation, beyond anything I've seen in my generation! And each book contain these epic adventures that eventually tie together into a beautiful conclusion. I think I cried, even though I know what will happen, because I feel like my magical adventure is coming to an end as well. Most of all, I feet for these characters - The Weasleys, Harry, Hermione, Snape, Neville, Malfoy... all of them!
And for those of you who aren't really fans of the book or of the movies, just go see it - it's got fantastic filming... and Snape scenes are just amazing!
Although, I don't really give a crap about Ginny... haha