Being a completely BROKE college student is kinda good for my make up collection. For the first time ever, I'm using up products - milking it to the last drop - getting my money's worth. Here are some mini reviews for you and this is also a post to show off too haha!! I am very proud to have finished these make up items.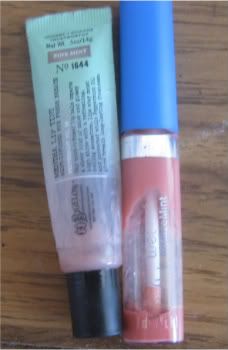 1)
BBW's CO Bigelow Mentha Lip Tint
: AMAZING product!!!!! I seriously DEVOURED this product because it was soooo moisturizing. Some people say that it is a bit sticky which is true. It is also really not tinted. It's pretty clear. But I love this product so much... it just feels sooo good on the lips and makes my breath smell great!
YES I will repurchase!!
2)
CoverGirl's Amazemint Lip Gloss in Slaphappy
: this is very similar to the first one I mentioned except it is a wand applicator. This one is good because it is more pigmented but doesn't last as long on my lips as the BBW one. I really like the minty feel. I don't like the packaging though- it is kind of ugly. That's why I don't reapply that much. Still - I used up this lip gloss like nothing else! In terms of repurchase -
Maybe
. I would but last time I went to check out the color selection, all I saw was shimmery and frosty colors. I didn't really see a color that I like.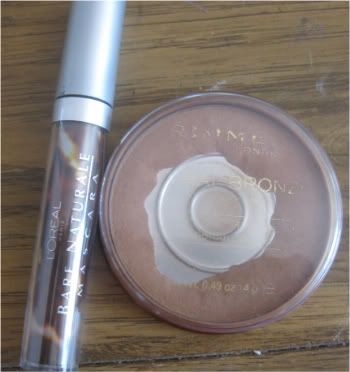 1)
L'Oreal's Bare Natural Mascara
: this is a fantastic mascara!!!! Love the way it makes my lashes look - although it is really natural looking, I like that it makes my lashes stand out more and just define my eyes a bit more. This and Maybelline's Full and Soft are really good mascara for that everyday, natural lashes. I think this might've given my lashes a bit volume than Full and Soft though.
Yes, I would repurchase
.
2)
Rimmel's Mineral Bronzer
in Sunlight: I love this bronzer - especially in the winter time. Now that it is summer, it makes me look a bit more tan than I want but in the winter, it gives me a really natural tan. Honestly though, look how much I've used that product up - I obviously love it. In terms of repurchase... I don't think I would because I already have a Milani and a NYC bronzer waiting for me. But I
recommend
this bronzer completely to you guys.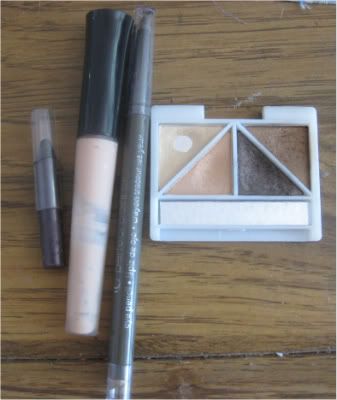 1)
Urban Decay 24-7 Glide-On Pencil in Rockstar
: Wow this pencil is so awesome because it can simply glide on my lids with no tugging but it pretty stays there ALL day with minimal fading. It is FANTASTIC! The only thing that I don't like about it is that I have to sharpen it and I waste a lot of product doing that. It is also really easy to loose the sharp tip that you get after sharpening. I got this from a swap but I don't know if I would pay $18 for a pencil. I might though if I don't find a drugstore alternative.
2)
ELF's $1 Eyeshadow Primer
: This is an essential make up item for me. I use this EVERYDAY! I wrote a couple of things about this
primer
on another post.
Yes, I would repurchase
for sure!!!
3)
CoverGirl's Perfect Point Plus
in Grey Khaki: I like this eye pencil because it is creamy and easy to glide on. It smudges like crazy though and fades really fast. However, when I go over it with eye shadow, it lasts all day for me! So in a sense, it works well as a liner base for my eye shadows. Very weird, but I like doing it a lot! I'd rather do that than purchase the Revlon Colorstay pencils because those liners are so dry and hard to use. In terms of repurchase -
maybe
. I do believe there are cheaper and creamier eye liners out there. If I'm just using this as a shadow base, might as well just go with a cheaper alternative.
4)
ELF's Eye Brightening Shadow Quad
in Butternut: My first eye shadow palette EVER! I just wanted to show you the damage that I have done with the highlighter shade. I don't know if I will ever finish the rest of that palette but I definitely use that shade A LOT! It is probably my favorite highlight shade - it's like a off-white yellowish kinda color. Really pretty sheen for the brow bone!! LOVE IT.
Yes
, if I could just repurchase that shade only, I would get it for sure.
So I hope this helps and maybe inspire you to use up your products instead of purchasing more items!!!
Please comment and tell me what make up item you have used up recently and would you repurchase?