Okay, so in April and early May, I did not purchase any new make up...
I definitely broke this trend today :D I'll post more about that later....
However, I managed to swap for a new things. This is something that I have wanting for awhile but I just couldn't bare to buy it - I cheap!
Point is, that I finally got my hands on it and I have been playing around with it. I now feel it is time to do a review!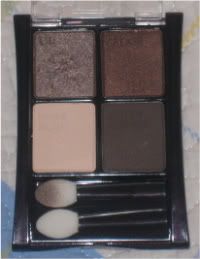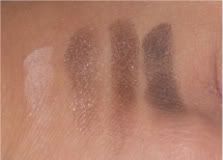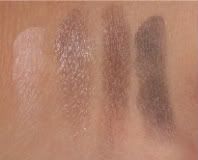 Maybelline Expert Wear Quads - Natural Smokes
What do I think?
Well, first of all, I really like the lid color - that taupey shade. WOW that shade is really pretty. It's like a silvery taupe - it is very similar to CoverGirl's Tapestry Taupe. HOWEVER, it has the worst pigmentation and texture that the quad has to offer. But you know what - it is expected. I spent (or would've spent) $6 on this entire quad so if one shade is kinda a dud, I kinda expected it. The color is really pretty though and I would definitely suggest using the sponge applicator if your brush is not giving enough color.
The two darker shades are definitely better in texture and pigmentation. Easy to blend! Very deep dark colors! VERY SMOKEY COLORS FOR SURE! If you're gonna do a smokey eye, this quad is not going to fail you. I love that the darkest color will show up more as a matte shade than shimmery. It gives the quad a nice dynamic.
And the highlight color is definitely awesome. I love that it is matte and it is pretty pigmented too. It didn't disappoint :) Overall, I gotta say - easy to blend, easy to smoke, and colors are awesome.
I totally recommend this quad to anyone who loves neutrals as much as me. The nice thing about this quad is that you can go pretty natural with it too. Out of all the smokes, I think you can use this for the office/school and then come night time, smokey that look out for the social hours! I don't know, I just find a lot of uses for this quad.
This is one look that I did: even when I'm trying to do a smokey eye, I tend to get more natural with it. I obviously didn't bring the colors up high enough to be extremely dramatic but you guys can definitely do that.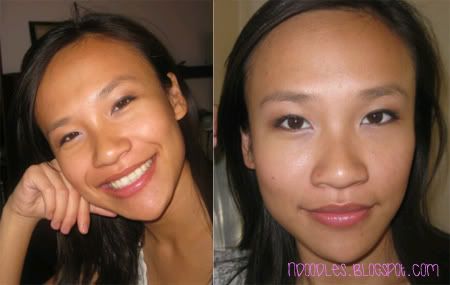 Well, well, well, I am done for now! But hopefully this post will show you that if you are wondering about this quad - I would say GET IT! Or swap for it! You'll find a use for it - promise!
I also have to say that I am really enjoying summer. The weather is awesome. I'm getting ready to go on a cruise to MEXICO and...
I FOUND OUT THAT I GOT HIRED!!
I was suppose to go into training today but that is canceled... because the lady was sick. GRRR... so I'm really hoping that they reschedule tomorrow or Friday because I have to leave Sunday!! GRRR.... so many complications.
Don't you ever wish you can control life more. Don't you wish you can know exactly what will happen and how it will happen? I guess that'll just be boring then, wouldn't it. I always have to tell myself everything will work out in the end... BUT I am extremely impatient and kinda a control freak. Well, I just have to hope and hope and hope :)
Everything will work out in the end - no worries.
Thanks for reading everyone!!
BYE :D