I was gonna do this during my Thanksgiving break but I was either too full or too lazy to do it! But here goes:
These are the make up items that I'm most thankful for! I either reach for this everyday or they enhance my features well or they just prevent my make up from melting off.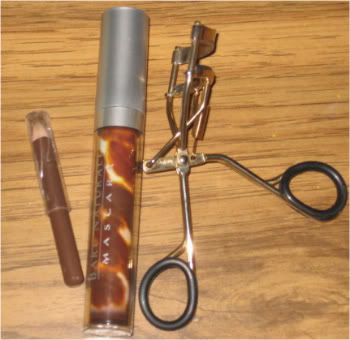 Eyes stuff!
My tiny Wet n Wild brow pencil in Taupe helps define my brows and works well on everyone - like my mom!
Mascaras are a MUST for me! I have come across some really good ones and the L'Oreal Bare Natural is a really good one for everyday looks.
Eyelash curlers are also a MUST! I will never apply mascara without curling my lashes first. I have a Revlon one but I'm hoping to upgrade to a better one soon.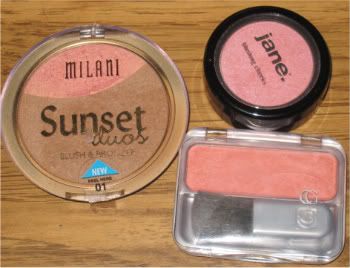 Blush/Bronzers
Bronzers are fantastic to warm up my complexion. In the picture, I have the Milani Sunset Duos in Sunset City but I have a Rimmel Natural Bronzer one that I enjoy too in Sun Light.
Blush is amazing! It helps me look alive since I am pale - as in I have no natural flush - the ones in the pictures are the two that I have been using quite a bit: Jane's Blushing Plum and CoverGirl's Pretty Peach.
Eye lid primers
I cannot cannot and I must repeat
cannot
wear eyeshadows without it creasing on me. Now that I have eye shadow primers - oh man, those babies will stay on all day!!! I cannot believe I didn't own any before. I think both the $1 ELF or the $18 UDPP will at least enhance the staying power so everyone shouldn't have an excuse of not owning any primers.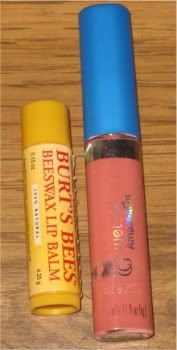 Moisturizing lip products
I am not exactly the biggest lip product person but if the product is moisturizing - it'll be the first to go in my entire make up collection. The Burt's Bees lip balm in the pic is GONE. The CoverGirl's Amazemint Lipgloss in Slap Happy has about 30% left. Also, honorable mention but not in the pic, my C.O. Bigelow mentha lip tint.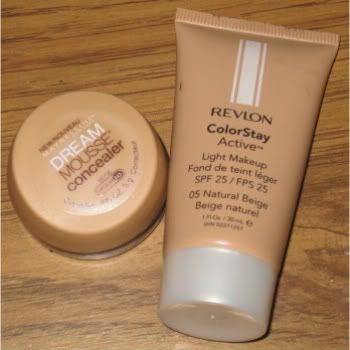 Imperfection Fixers
My skin has been driving me insane - some days it will be good and then BAM! it gets bad! I mean, what the heck! So in those emergency moments, I desperately reach for my Maybelline Dream Mousse concealer in Beige to cover my acne scars or redness around my nose or dark circles... It's nice to have a concealer because it looks more natural than covering my entire face with foundation. However, lately I've found that the Revlon Colorstay Active Light Make up in Natural Beige is really good with evening out my complexion without being too cakey. It also doesn't exemplify my pores or dry patches as much as a lot of other foundations - which is just fantastic!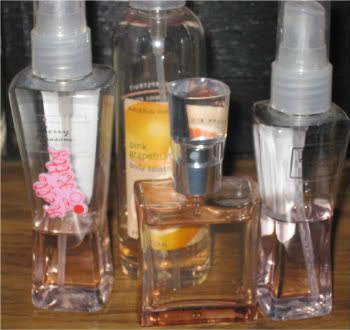 Nice Finishing Touch
For some reason, when I put on fragrance of some sort, I always feel like that is the last step of the day and it is the step that sends me off to school. It's very much like a finishing touch that really make a difference. Smelling nice is important in a subtle way. I love Bath and Body Works fragrances - my scent right now is Twilight Woods. I frickin love it!
So, what are some products you are thankful for?