Okay, so it has been Fall for awhile... no? But it only had started to feel like Fall here in the lovely Southwest! It's been nice - 40s F in the morning and then 70s F throughout the day. Yeah, very nice!
But in the spirit of Fall, here are some items that I think of as "Fall items". They just represent the season very well and they are items that I tend to reach for these days.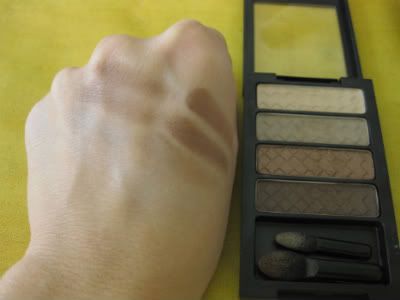 Revlon quad in Coffee Bean
You can't really see the colors really well here but that 3rd shade down - it's like this rusty-coppery color! It reminds me so much of the colors of Fall - earth tone that is warm and sultry. I wear that all over my lids and use the rest of the color to help out with the blending and such. I also line my eyes w/ the dark brown. That color is definitely the star shade of that quad - easy to blend, pigmented, really pretty - and I get compliments when I wear it... love love love!!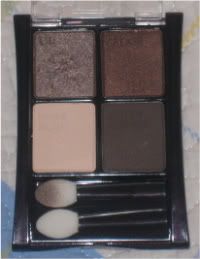 Maybelline quad in Natural Smokes
Speaking of earth tones - this quad has all of that loveliness for you! It's got a nice taupey shade and then got a nice warm rustic color again! This is such a lovely quad to use for everyday and then for a more glamorous look for going out or something. Very very pretty!
PS. I've done better reviews on these quads - feel free to check them out!
Other things that I like using for this weather are: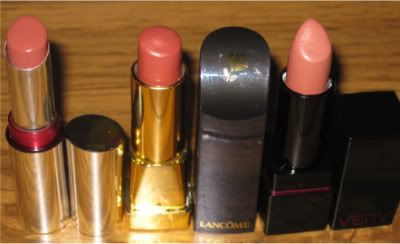 L'Oreal Juice Stick in Chai Love You // Lancome's Lipstick in Ecran Square // Victoria's Secret's Very Sexy lipstick in Sweet Nothing
Very nice neutrals - they don't wash me out; they give me color but they are also not BRIGHT IN YO FACE - you know what I mean. I like wearing them to give me more warmth to the face but very natural as well. These are definitely "my lips but better".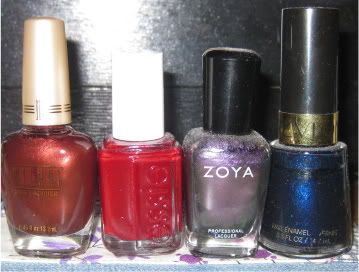 Milani's Brown-alicious // Essie's Tomboy No More // Zoya's KI // Revlon's Midnight Affair
Again with the warmer and darker, vampy, colors! I mostly wear the dark colors on my toes but that Revlon one is GORGEOUS in the light. It looks dark but you can tell it is navy... however, those sparkles within it are just amazing!!! Very distracting - for me. I couldn't stop looking at it. The first two are your typical warm and, again, sultry, earthy colors!
So what are some of your favorites????
Let me know! I might stop by and pick some up.
SPEAKING OF BUYING THINGS: 75% off on some L'Oreal products at CVS!
Click here
for more info from Nouveau Cheap!
Have a great day!! Off to study for my BIOCHEM exam! Wish me luck... I need it!!!