So I have written 2 similar posts like this explaining my 3 favorites, 3 unsures, and 3 dislikes from a brand. This time, it is Maybelline's turn: DUN DUN DUN! *dramatic music*
3 FAVORITES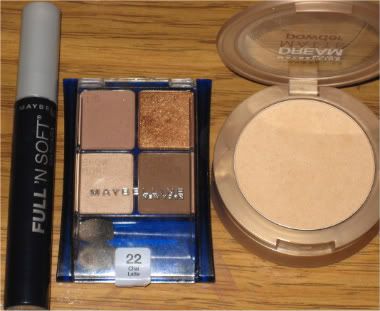 1) Full N' Soft Mascara - Okay, this is a fantastic mascara for everyday-natural look. Your lashes look fatter and longer but to a very organic extent. Which means that you will have really pretty defined lashes but people won't look at you and say - AH HAH - MASCARA! People will look into your eyes and think: Darn, she is just naturally GORGEOUS :D - and that is the compliment we all want. RIGHT ladies? But think - this is AMAZING as a mascara primer too! I used it today just to separate and lengthen my lashes. Then I go over it w/ my CG mascara and WOW really really pretty. REALLY REALLY FAT and LONG lashes. Just good stuff. But honestly, using this on it's own is already perfect.
2) Eyeshadow Quad in Chai Latte - I know everybody says how much they love it... but do they? Or are they saying that because youtube gurus are saying it. Well, I personally enjoy this quad a lot! It's because when you are going for the natural look - yeah, this is gonna be great. Matte shadows are always awesome and these have great qualities too... but you can also go dramatic w/ it... ya know. I rarely use the gold though but once I did line my bottom lashline w/ it and it looked so cool. Anyways, if you are at the store and you're looking at Maybelline shadows... and you don't know which one you want - try Chai Latte - I think you'll be happy w/ it. Now, you won't be ECSTATIC; you won't be jumping up and down screaming "YES, I've finally got my hands on this heavenly object" - no, this is a pretty boring quad - I admit. But you'll use it :)
3) Dream Matte Powder - A great setting powder and really just a nice mattifying powder for oily skin out there. I have an oily T-zone in the summer and this really really helps w/ the shine. Although I did notice it got cakey on me during the winter time when I have dry skin... so do be aware of that. But I totally recommend this to people who can't stand their oily skin. Really good setting powder too.
3 UNSURES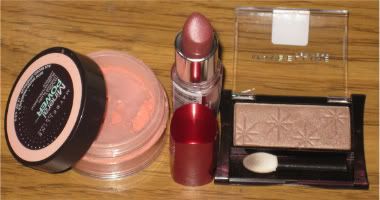 1) Mineral Blush in True Peach - This is actually a really really pretty blush... and it is matte and it looks gorgeously beautiful and natural. This is my mom's HG blush - she will not use anything else!! I just don't like it for the mess and the fact that I find it hard to apply sometimes because it is really pigmented. Sometimes I accidently get too much... THING IS - this is a really pretty shade... so ignore me - this is my problem - you guys go and try this out.
2) Moisture Extreme Lipstick in Rum Raisin - Another pretty shade... but a darker shade. More dark like reddish color so be aware of that. I got this because I wanted a color I didn't have before. This is really great. I just don't like that it has a bit of glitter in it and once the lipstick goes away, the glitter remains. It also travels and ends up around my mouth too. But that is pretty much it. I enjoy wearing this during the winter time. Has SPF 15 - GREAT stuff! I guess, again, my problem. I'm sure some of you would LOVE this lipstick.
3) Eyeshadow Single in Beach Blush - One of my favorite shadows EVER! I feel like it brings out my eyes. The only thing I don't like is the pigmentation. It isn't as pigmented as I would've liked. Texture is not amazing either... but I will continue to use this. Again, I'm sure there are people out there who would love this stuff!
3 DISLIKES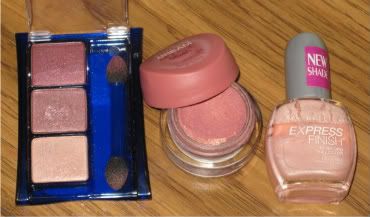 1) Eyeshadow Trio in Berriful - The color in the pan is pretty... but.... GLITTER! equals FALL OUTS and I don't like that. The darker purple makes my eyes look like they are swollen... it is not my kinda color I guess. The mid one isn't so bad but the pigmentation is horrible. Overall, this trio has been sitting in my drawer for a long time now and I just haven't used it at all...
2) Dream Mousse Blush in Rose Petal - I think that's the name. I could be wrong. Okay, I LOVE LOVE LOVE the texture but I HATE HATE HATE the golden glitter in this. It is just way tooo glittery and I don't like that. I love the color - I think it gives me a nice and natural flush but the gold flecks just annoy me. I only like to use glittery/light reflecting particles as high lights and not blush... so this blush disappointed me in that way. I do pull it out to use it sometimes - when I'm going out at night :) I might try another mousse blush just because I love the texture and finish. Although I don't think it lasts very long on the face...
3) Express Finish in Eternal Blossom - Okay, I am pretty sure I made that name up... ha ha but the color is pretty accurate. I hate it because it takes 3 coats to get a decent color. And the color is very pretty - I have it on my toes right now. But without a base/top coat - this thing lasts 1 day. ONE DAY! What? Also, I don't like to have to wait for my nail polishes to dry and w/ 3 coats - I'm sure it takes at least 1 hour to dry. I don't have that kinda time. I could the the Seche Vite top coat but I don't feel like my polish stay on as long w/ that top coat than the one I'm using right now -
Sally Hansen's
.
---------------------
As you can see - a lot of these products are not exactly clear cut. I love most of them but they have their annoying qualities. It was actually kinda hard for me to choose... but there it is.
I hope you guys find this useful!!
Thanks for reading :D