When I look at some of the products I have purchased/swapped over the years, I have to say that, when it comes to eye shadows, I'm in love with 2 types of colors: bronze and taupe!! What I love love about these shades is that I can just swipe the color on my lid, liner, mascara, and I'M DONE!!!! No fussing about outer corner or crease shades or blending.
So I decided to pull out my collection and swatch them to see how similar the colors are. Have I been wasting my money on the same exact shades?!?! Or are there slight differences to them that I can detect.
Bronze: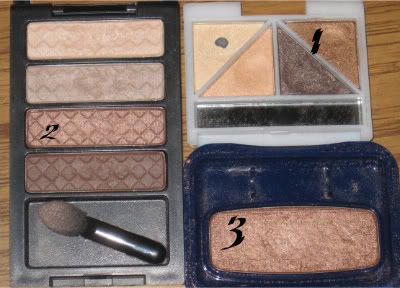 1) ELF's Butternut quad
2) Revlon's Coffee Bean quad
3) Cover Girl's single in Swiss Chocolate

My favorite to wear is the Revlon one because it is so soft and easy to apply! I feel like I always get compliments when I wear this. I recently got CG Swiss Chocolate from a swap and already really enjoy it! It is also really soft and pigmented! I love it. Now, the ELF one is not as soft but still just as pigmented and it is one of my oldest shadows. All three are extremely easy to blend and looks great in the crease as well as all over the lid!
Taupe: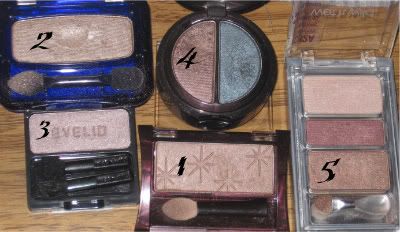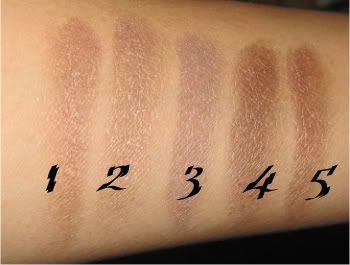 1) Maybelline single in Beach Blush
2) Cover Girl's single in Tapestry Taupe
3) Wet n Wild trio in Silent Treatment
4) L'Oreal's HiP in Sassy
5) Wet n Wild trio in Mojave Mauves

Let's see, I would say that the best texture and pigmentation would be the Wet N' Wild shadows and the L'Oreal HiP. The cool thing about L'Oreal's shadow is that it is a good dupe for MAC's Satin Taupe. However, I find it a bit dark for everyday wear. Sometimes, it is easy for me to go smokey with this if I'm not careful. However, the WnW ones are amazing! I swear, Mojave Mauves is one of my favorite trios ever and that taupe shadow is probably most worn. Of course, CG's shadow is quite popular and it is a really cool taupe because it is more silvery taupe. Very cool! I don't like the texture that much - it can cause a lot of fallout as well. WnW's Silent Treatment is also a silvery taupe. Finally, the Maybelline single is really cool - texture isn't as good as I would've hoped - but I still love the color and it really brings out the brown of my eyes. Very interesting indeed! These are really fun to have - taupes are a lot prettier than regular brown, IMO. These are extremely easy to wear! One swipe on the lids and I'm done w/ my eye shadow look.
So, what do you guys think? What color do you guys tend to buy?
I also just realize I have a lot of matte dark brown shades too... but I guess I can save that for another time. ALso - the swatches show how dry my skin was... GROSS!
♥ ♥ ♥
I went to see No Strings Attached with a friend yesterday...
and I thought it was cute -- but really cheesy!!! Ha ha but I think it's kinda good timing for this movie since Valentines day is right around the corner. It's good for couples and singles to go and watch :)
I think Natalie Portman is freaking awesome and she is a great actress. However, I hope she does more amazing films.
BTW - Natalie Portman and Alicia Keys are two women I really want to be like. Their make up and clothing styles aside, they are both extremely talented and really smart and just fantastic at what they do! They live life under pressure and fame but doesn't succumb to all that crap. Very admirable indeed.