I haven't done one of these in awhile... so I figure I need to keep up!! Here goes!

21) MAGIC



22) Music



23) Perfume



24) Conversation



25) Hawaii



♥ ♥ ♥


In other news, I got my CoverGirl Natureluxe Silk Foundation sample I ordered from Walmart a week ago and it came in two different sample packages. Each package contains enough (and a bit more for me) to do the entire face. Unfortunately, I didn't get to choose the shade but it worked out okay for me... I think. Here's a pic of what it looked like on. My skin look pretty good on camera - gotta say. I think I'm gonna try out the 2nd one soon and then decide if I want to buy the real thing or not.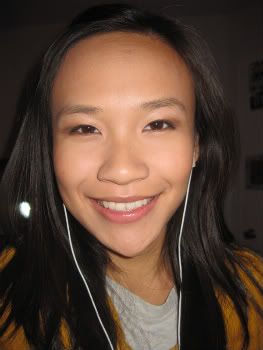 Wearing 340 Maple w/ flash
The only thing I noticed is that it isn't as light weight as I thought it would be. I still felt it sitting on my skin. It blends easily and it looks pretty flawless. It did exaggerate my dry patches though (mostly around my nose). The cool thing is that I think this is definitely a light-medium coverage and more medium for me, even though other reviews had said light coverage for them. Overall, quite interesting... I'm gonna have to give this one more try.
If I was to buy a brand new (as in new 2011) foundation right now, it'll have to be the Maybelline Fit Me or this CoverGirl one.
I'm still waiting for my free sample of the Maybelline Fit Me...!
♥ ♥ ♥
One more thing that is beauty related is that I'm on a search for a new skin routine. My cleanser, day and night moisturizers are all running low! I need to repurchase all three!!
Also, I need a new mascara and lip balms as well...
So if you guys have any suggestion for a good drugstore cleanser/moisturizers, please let me know!
I have normal-dry skin! Not acne prone and could be sensitive.