The answer people often give to the question, "What is your favorite make up brand?", is: "Oh, I love all sorts of brand. I don't like this just one!".
This is so true - I look at my make up collection and think - I love all different brands! Each brand carry a different item that I love so it is impossible to choose. But I thought I'd think about this a little harder... and here's the extended version of my answer:
Brand I go to for face products: Maybelline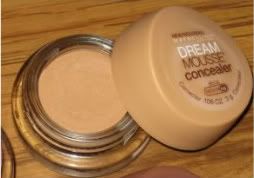 Maybelline's Dream Mousse Concealer
and
Maybelline's Mineral Power Concealer
I absolutely love both concealers! I love the Mousse one more just because it is so easy to apply!!!!!! Makes my make up routine a million times faster.
Brand I go to for Blush: Jane
Brand I go to for Bronzer: Rimmel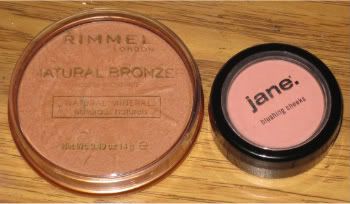 Rimmel's Mineral Bronzer in Sun Light (L)
Jane Blushing Cheeks in Blushing Petal (R)

Blush and bronzers are a must for me because I'm kinda pale and with the combo of both, I look like a I have healthy complexion! I look awake and ready to take on the world!! Jane blushes are so soft and, this one in particular, is so pretty and natural on me! The Rimmel Bronzer is my favorite bronzer and I love just dusting it all over my face. I feel like it brings life to my face... weird huh!
Brand I go to for High Lighter: Physician's Formula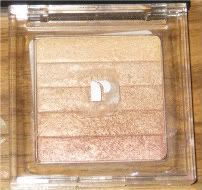 Physician's Formula Shimmer Strips in Vegas Strips
Love the pigmentation and texture of this! Very beautiful shimmer that isn't over stated. I use this both on my eyes and my cheeks to high light! I usually hate shimmery products but I love doing this during the month of spring because it gives me that fresh glow!
Brand I go to for Lip stuff: Revlon

Revlon's Colorburst lipstick in Soft Rose
and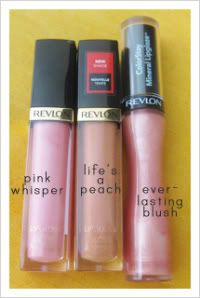 Revlon Super Lustrous Lip Glosses
I really love the way Revlon lippies look and they feel great on the lips too. I find that Revlon has a lot more selections when it comes to types of lipstick, finishes, colors... etc. Their lip glosses are the only ones I really enjoy wearing also.
Brand I go to for Mascara: Maybelline
The first mascara I ever tried was Maybelline's Great Lash and at the time, I was so a n00b that I bought it in Brown! Boo! The 2nd I tried was the Full n' Soft and that was a great everyday, natural mascara! Even though I haven't tried any others, I feel like this brand has the most to offer me w/ all their new mascaras coming out. Some that I'm dying to try are: Lash Stiletto Voluptous, The Falsies, and Define A Lash.
Brand I go to for Brushes: ELF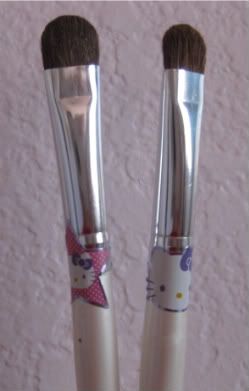 ELF's $1 Professional Eye Shadow Brushes
I own two of these along with the $1 crease brush. These three are my essential weapons for eye make up! Besides that, I also own a few studio brushes and I really like them all! They are so cheap that you can have great tools but you can also save the money for more products to play with.
Brand I go to for Single Eye Shadow: CoverGirl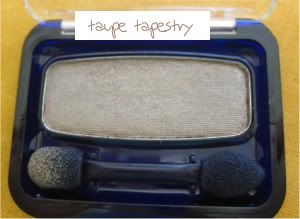 CoverGirl's Single in Tapestry Taupe
I am starting to fall in love with these shades! They come with so much products and various types of colors! Now, I do love the NYX singles but I feel like I don't reach for those as often as I reach for CoverGirl... not sure why! I also have Brown Smolder and Swiss Chocolate - both fantastic shades with great pigmentation and easy to wear.
Brand I go to for Palette Eye Shadow: Wet N' Wild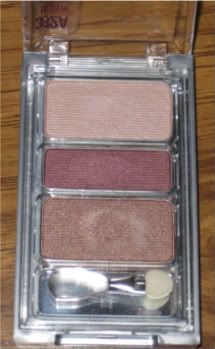 Wet N' Wild's Mega Eyes Trio in Mojave Mauves
This is my go to palette - eye shadows are soft, pigmented and freaking fantastic! I have two other palettes: Sugar Plum Fairies and Silent Treatment. Here are two recent FOTD's I did with these WnW eye shadow palettes:
1/29/11
w/ Mojave Mauves
1/25/11
w/ Sugar Plum Fairies
Brand I go to for Lip Balms: Burt's Bees
I am quite sure I've used up about 4 tubes and that's only because I wanted to use up my other lip balms too. I've used so many different lip balms but always go back to this one! LOVE IT - will repurchase when I run out of my other lip balms!