I know I know - so many people are doing this tag... but I love it :) It is different than the others and I just couldn't resist!
HERE GOES:
1) Most worn lipstick/lipgloss - I did both: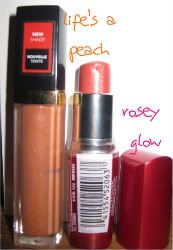 * Maybelline Moisture Extreme in Rosy Glow; Revlon Lustrous lipgloss in Life's a Peach
2) Most worn shirt: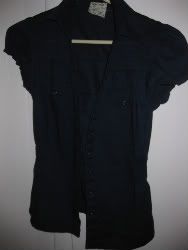 * I got this at ROSS - it just looks so great! The color is navy blue which goes w/ basically anything and it is different b/c it is not just black.
3) Most worn hair products:
* I don't use a lot of hair product - if you guys read my previous post, I sleep on my hair and that's how I get it to come out the way I want (sometimes). Weird, I know. But I do use shampoo and conditioner all the time and right now I'm using this one. I actually got a compliment on how shiny my hair was. AND I do feel like it is softer and silkier :) Good job Treseme! Before I was using Nexxus which I really like also. Next I will try the Aveno one since my mom already bought it.
4) Most worn handbag/bag: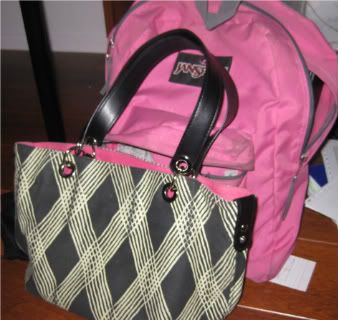 * Right now, my backpack is most worn! But during the summer, that bag is the most worn. Really great size to put things I that need throughout the day. It isn't flashy or fancy but it is still cute. I seem to have a thing for pink bags... I got it at TJ Maxx - for $10!!!
5) Most worn earrings: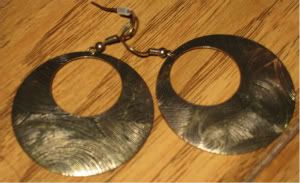 * I got these at Target a year ago and I think I reach for these the most. They are really pretty - I don't know, the pic makes them look weird but they're awesome in real life
6) Most worn perfume:
* I don't wear perfume but I do put on some body spray. This one is my fav! Definitely most worn.
7) Most worn nail polish:
*
Click for review here
- not the best staying power or quality but I love this color!!
(I made up one b/c my most worn shoes are disgusting, dirty and should not be seen by other people - just basically tennis shoes)
8) Most worn out: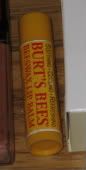 * It got the point where I was using my bobby pin to get the product out!
* My backpack would fit under this too. I take it everywhere - even Viet Nam!
---
So I tag everyone to do this! Very easy tag and what nots!
I shall end my post with: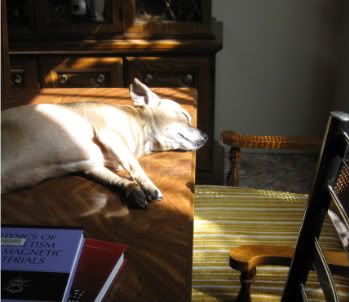 What I would do to be a dog!
---
Until next time!