Okay, before I say anything about this giveaway, I wanted to do a review first... of my own Ecotools: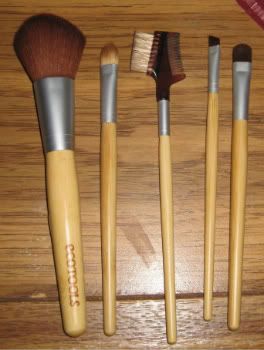 As you know, Ecotools is a company that makes eco-friendly beauty tools. What I bought was the 5-piece set from Target that cost me $11! It came with a Blush Brush, Eye Shading Brush, Eyeliner Brush, Lash & Brow Groomer, and (one of my favorites) Concealer Brush.
The sturdy handle is made of bamboo, which on the website states that it is a highly sustainable plant. The bristles are synthetic and the ferrule is made from recycled aluminum. Everything is from natural and recycled materials - which IS AWESOME!
So what about the quality???
SOFT
!!! Amazingly soft - especially the blush brush. It is like the Everyday's Mineral brushes or like a kitty's tail or something. Sooo good! Because of this that I don't mind using it to place the color and blend.
The concealer brush makes it so that I just dab the concealer on a blemish and the edges are already blended - although it is a bit small for under eyes though so you might need a foundation brush. But again, it is soft, it works GREAT with liquid/cream concealers. I love it.
The liner brush I use often to line my bottom lash line w/ a shadow. Sometimes, I even use it for brows. I mean, a liner brush is a must-have and why not buy one that works well and is cheap!
I use the eyeshadow brush to blend out my cream shadows and even place powder underneath my eyes to set my concealer. DID I MENTION HOW SOFT THESE BRUSHES ARE? Yeah, they are amazing.
And of course, the brow and lash brush - another must have and this is part of the pack - why not.
Another great thing I love - how sturdy and well made these brushes are. I feel like they're never gonna break on me!
** Of course, I would like to mention that the blush brush doesn't pick up as much color as I would like... but if you have a heavy hand w/ your blush - this works great. Also, it allows color to be buildable. Nothing major.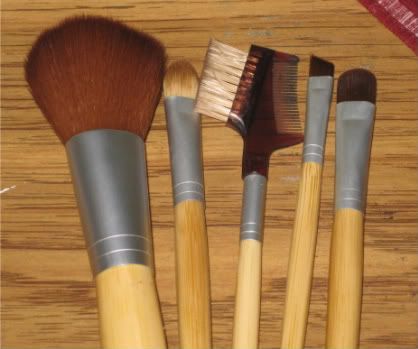 ----
So I was shopping and I thought - why not buy an ECOTOOLS set for this giveaway I've been planning for ages! So I went to the section and this set really caught my eyes - it was the only one that they had there too!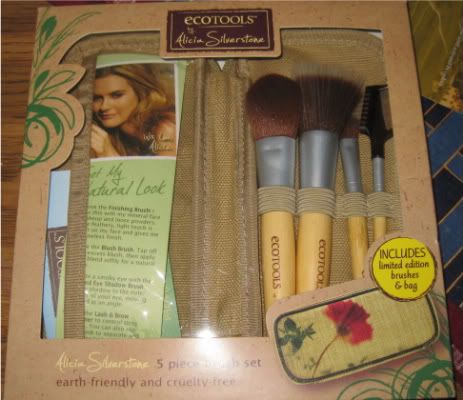 This is the new Alicia Silverstone brush collection. It comes with a blush brush, eyeshadow brush, lash & brow brush.... and MOST EXCITING...
A DUO FIBER BRUSH!!!
Yeah, cool eh?? Oh and they also have a cute little floral brush holder too :)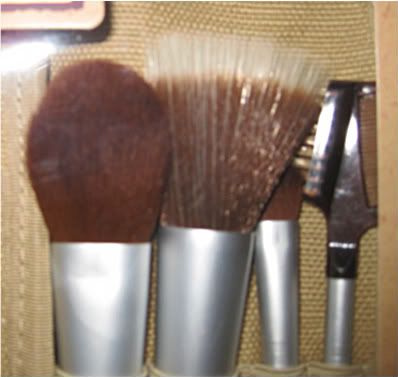 What you have to do to join is:

COMMENT TO THIS POST!!

Tell me: What is your favorite Holiday/Christmas family tradition?

I will do that whole random thing again!
Rules: YOU MUST
1) Follow this blog
2) Put your email address w/ the comment
3) Answer my email in 3 days or I choose another winner
4) Comment once!
5) US RESIDENTS only! I'm really really sorry about that!


THIS ENDS DEC. 9!
It isn't hard - just write a quick response!


This isn't a requirement but I would really appreciate it if you guys advertise this giveaway on your blogs too! If I don't get more than 5 people joining this contest - I might as well just keep it for myself! I know... I know... horrible!


Well, thanks for reading my post! I hope I've enticed you... ha ha! Please join!


~***~
My favorite tradition is decorating the tree! My sister and I are usually in charge of it. It was more special when my mom would come home late at night from work and the tree would already be up. Also, we love to bake sweets during the Holiday season. We are not Christians but we still enjoy the spirit of the Holiday and we do try to be part of it as much as possible!