So I went on ELF the other day just for fun (xP) and I fan across some new stuff that they have that I'm REALLY REALLY excited about!! - Thus this post...
Okay, so let's dive in shall we - I'll save the best for last:
** All pics are from the ELF's website!!
- Brush cleanser!! Been wanting one but eh - what I make myself is fine - but for $3... WHY NOT??!!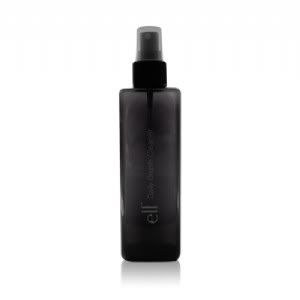 - also a Daily brush cleanser... Is there a difference?? WHO KNOWS...
But being in a Microbiology class this semester, I know that antibacterial stuff are extremely important!! Microbes are everywhere and they can cause NASTY NASTY acne!! That's why I'm pretty excited about these - b/c they have the antibacterial side to them. I guess alcohol works too...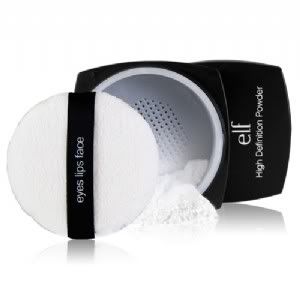 - HD Powder... now I don't know how much I need one... I don't think I really need one but just the idea that ELF has one... and a cheap one.... YEAH!!!!
Note: it is $6 instead of $3
- Okay, I just saw this and I was like - MUST HAVE MUST HAVE MUST HAVE!! Ha ha -- yeah, I hope this works - I mean, I hear the mineral and the studio ones are not bad so I'm excited! YES! For
$1
HECK YES!!!!!
Finally... my most excited object... yes... here it comes:
- A FACE PRIMER!!! Wah wah wah??? Yes yes yes!! It's
$6
but I'll totally buy it. I mean, I hear about the Smashbox one all the time but I'm not gonna spend $38 for that... NO THANKS! But for $6... YES I WILL!
So I usually make my ELF orders at the end of the year... last year I made my first order and I've been wanting to make another for a while now. I can't wait for these to hit Target... I want them now! Ha ha. Or... I mean in Dec. You know what I mean!
Okay, I'm on a little caffeine high right now...
I took a Midol this afternoon and it has caffeine in it...
I don't think that hit me until now... but I'm really restless and going crazy.... ha ha I can barely type... yeah it's bad.
Okay, getting off now! Hopefully I'll upload some pics so I can have a real
blog
POST - I meant post!!!
Ha ha... OH MY!
- BYE GUYS! Thanks for reading.