So I was reading one of my favorite blogs ever,
Nouveau Cheap
, and she did this "Beauty Tag" and I thought it would be fun to do! So... here goes.
What's your favorite make up look?
Light wash of a taupy shade on the lid - liner (just pencil) and curly, defined, volumized, lengthened lashes. Brows are filled in (doesn't have to be amazing just has to be visible to the eye :D). A bit of bronzer and then nice light pinky/peachy matte blush. Oh and on the lips - nice pinky nudy color!
Do you have a beauty vice you swear by?
Well... I've heard from so many people - especially my mom - to NEVER POP YOUR PIMPLE! Well, for me - it doesn't start to heal itself unless I pop it! Well, I guess if I was more patient then I can wait a week and maybe the pimple will be gone but I honestly feel like it heals better when I quicken the process. I know - some of you are probably thinking about the acne scars... I don't have those really... so nothing bad yet!
What part of your body do you love?
I like my eyes the most. I don't know why - I just do :D
Who is your beauty icon?
I have many... but I can't think of any right now... ha ha... so here are two that I can think of: Jen Anniston - I love that she always look so natural and that she's not trying so hard. It is really her inner beauty that shines through and not the make up:
||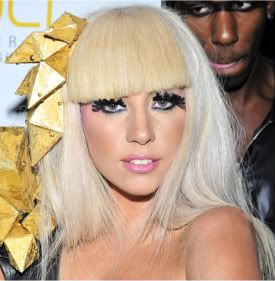 And Lady GaGa - I love how she can utilize make up to create whatever kinda look she wants. Sometimes she looks like an angel and then sometimes she looks really creepy... like a robot or something :D
What are your favorite products?
Right now... favorite product would be my Maybelline Full & Soft and my CG Professional Volumizing mascaras! Both are amazing. AND - ELF eye brushes! No joke - so CHEAP!
What beauty product makes you feel instantly sexy?
Of course, smelling great is definitely a great instant make over. Bath and Body Works has gotten amazing stuff!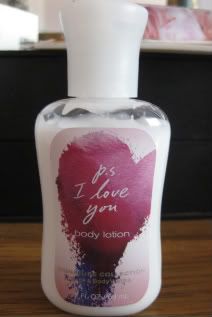 This scent is amazing! As well as the Japanese Cherry Blossom one (in red packaging). I don't use perfume - only body spray. Perfume is too strong for me. And also, mascara and curly lashes - opens up my eyes :)
How do you look after your skin?
SPF 15 moisturizer. I wash my face every night now w/ Neutrogena Acne Stress Control (helps my popped pimple to heal w/ no scars) **
If you guys are using cleanser with acne medicine - salicylic acid or benzoyl peroxide, make sure you at least give the medicine time to work like a minute or two. Don't just put it on your face and wash it off immediately! It is an important thing that I've realized - my skin has been acting up so bad for the past 2 weeks!
** Occasional mask for black heads and dry the pores a bit. Sometimes toner, sometimes Clean and Clear cleanser - but I don't really like it that much.
What is your signature scent?
I don't really have a signature scent. To my sister - it would be my stinky socks :D ha ha oh man! I love torturing her. Yes, I'm not perfect. But I do use my B&BW body spray Pink Grapefruit a lot! So, if that could be my scent then... there ya go.
What are your hair care secrets?
Taking shower at night and then sort of sleep on it. It gives me nice and natural curls. I don't even need to comb my hair and it isn't frizzy so this method works well. I wouldn't recommend this to many people who have different hair type than me though.
How do you pamper yourself?
Painting my nails! When I have time and when it is necessary - I would sit down with my nail polish remover, cotton, and nail polish... AND GO TO TOWN!
What is your beauty pet peeve?
Cakey foundation. Foundation that doesn't match. When you are too tan especially bad tan - orange tan **example: I saw this girl who's face was looking really orange that I had to do a quick 2nd look to see if her neck was the same or she just overdosed on bronzer. Her neck was the same color - still not good ** Bad hair dye. Lastly, dramatic eye for school for everyday - it just isn't necessary!
What would your desert island must haves be?
Food, water... you know the good stuff. Then, I'm thinking - sunscreen, lipbalm, blush (gotta have my blush!) and that's all I need!
What's on your to-buy list as of right now?
Um, Costco brush set! I'm also thinking HiP duos!
Finally, do you have a beauty philosophy?
SMILE!
Who are you tagging?
Everyone - this is really fun to read and write! Please do it!