So, as you girlies know... you all need some form or another a good red lipstick. Why?? Red lipstick just makes you look so much more glamorous. Trick people into thinking that you put so much effort into looking hot while you did barely anything at all. Red lipstick looks great on special events, dates, night outs. Also, red lipstick looks awesome w/ a barely there eye look. So, here are my top picks for red lipsticks that I think are GREAT!
- What I love most about these is that they are not bright red. They are red w/ a hint of brown or warmer tone. They are not the cooler tones that some skin tones can't pull off. These colors warm up your face - which makes it suitable for anyone - pale to tan to dark.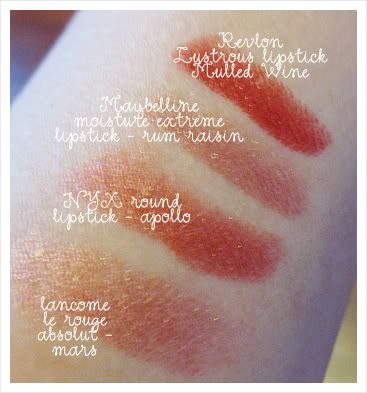 - Maybe the swatches will help explain what I mean. As you can see, the Revlon one is more bold while the others are, still red, but less dramatic.
My absolute favorite is the Lancome one b/c not only does it have the "warming" ability but it also has golden sparkle undertone which is AWESOME! Red and gold go very well together.
Also, my mom got this w/ a free gift w/ purchase... so I wouldn't know how to repurchase this love piece. I don't think I ever let it out of the make up bag. It's too precious :D!
However, Apollo from NYX is really close to a dupe... close but not exactly. I switch off between the two sometimes.
The Maybelline one I use for nude looks. If I use it lightly, it gives me a nice "your-lips-but-better" color :D.
The Revlon one I haven't tried on my lips yet... I'm too scared. It's so red! And the staying power is amazing.
That's all for now! I hope you had fun reading!
BYE BYE.