Why does my title sound dirty?? Bet you didn't think of it that way until now that I've mentioned it... ha ha ha... I'm evil.
ANYWAYS - it's late and I guess I'm just ready to sleep now - and dream of sweet make up!
But, this post is about my foundation routine. So during the winter time, I didn't really notice any problems w/ my skin (besides a pimple here and there). But now it is summer time (and it gets HOT here!) and I notice some problems....
AHHH MY PORES ARE GINORMOUS!!
During the winter time, I have dry skin but now during the summer time, I have dry-combination skin. DISGUSTING!!! So, now my biggest thing is to cover up my pores and make my skin look more smooth and nice.
Big pores just makes your skin oozy w/ oil and also blushes really exemplify them - and let me tell you, I LOVE BLUSHES! I'd put blushes on before I put on eye shadows or liners (I would put on mascara before it).
So, the points of this post is what I've been doing to cover up my pores and "mattify" my t-zone.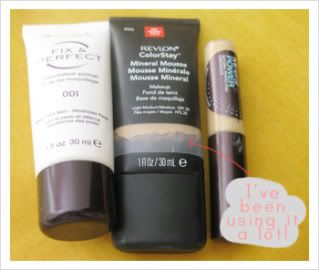 First
, moisturize!!
Second
, I put on the Rimmel primer (I'll talk more about this later... it's too late!)
Third
, I conceal my under eye circles w/ the Maybelline concealer. I actually really like this concealer.
Fourth
- THIS IS WHERE THE MAGIC HAPPENS! I use the Revlon Mousse Foundation and YES! It minimizes my pores (instead of making them look bigger!) and really pretty matte finish! WHEE!! I adore this foundation but BEWARE - this is not a foundation for dry skin people. I can only use this during the summer now but I wouldn't dare put this on in the winter time. I actually did that for a little bit and it really magnifies dry spots. So be careful w/ this. But I've been really satisfied w/ this little baby! It doesn't feel cakey at all but it gives beautiful coverage.
Fifth
, I just put some sort of powder on it. I think I mostly used my Wet n Wild pressed powder really lightly to set.
NOTE:
I only put these things on my t-zone where I need it the most. I don't do my whole face.
Here are some pics... I don't know if this helps but I didn't edit anything at all on these pics. Trust me though, it really helps w/ the pore problems.
- Flash makes me so much tanner than I am... but I am pretty tan right now - one reason why I don't use Bronzers during the summer.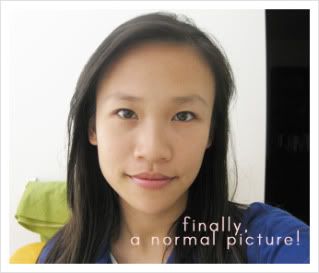 Hope this helps some of you!