So, I've been limiting myself on buying things but that doesn't mean that I shouldn't swap right? I always have make up that I never use laying around and I figure the best way to get rid of all of it is to SWAP!! So, check out all the cool things I've gotten over... just last week :D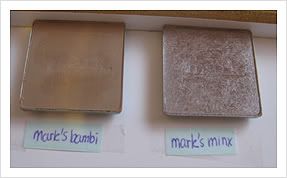 I've always wanted to try mark's shadows!! They are huge! I love using minx/coquine for my crease.
**It is also in a DIY palette that I'll post about later.
I've wanted to try the Rimmel primer for FOREVER!! Now I finally have it!! I'm so happy. And, I tried it and it blends into my skin so I don't have the problem with it turning orange on me - which is kinda a dumb thing for Rimmel to do - have a apricot color primer.
Anyways, OOH, I also joined another giveaway. This time it is from
Makeup Babble
! Check it out!
That's all for now. Hope you're having a great weekend.

- TOODLES