Some people use alcohol to drink their sorrows away... or some people use it to go from "Rachel, the desk assistant" to "Rachel, life of the party".
I use it... for MY MAKE UP... and OH MY GOD did it help me out so so so much!
1) I use it every time I sanitize make up items that I've swapped for. I put the alcohol (I got the cheap one 50% isopropyl acohol) in a spray bottle and spray what ever item I want to disinfect. It works on any powder and lipsticks (which are the ones I always get anyways).
2) I use it to mend my stuff. So I bought a Victoria Secret baked eyeshadow and we all know that baked items are EXTREMELY fragile... and of course it came broken. No need to fear I thought, I just need my alcohol and I'm all set!
BEFORE: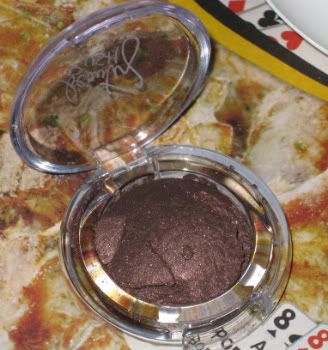 AFTER:
* I just crushed the shadows that were loose w/ a spoon
* Then I used a quarter and wrapped it around a napkin - sprayed that w/ alcohol
* I sprayed a bunch of alcohol on that shadow and PRESSED!
* Ta da - of course, there was no way I can actually make it back into the cute dome shape that it was but heck, it is still usable and doesn't make a mess everytime I take it out.
* Now, I have no idea how the alcohol actually make the product stayed together like that... if you have a clue, let me know :D I'm curious!
TOOLS: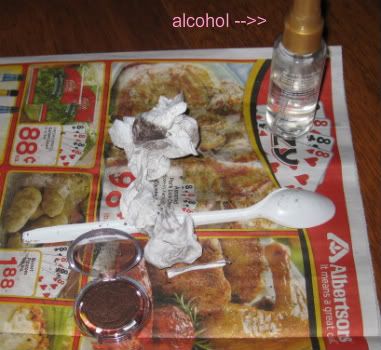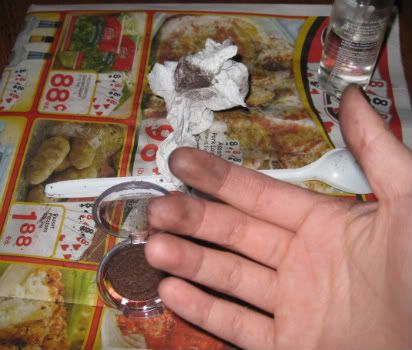 * This method does get messy. I think I lost about 10% of product but that's okay. It was totally worth it.
* I think the paper is extremely important in this method! (
Disclaimer: I'm not trying to promote Albertson in anyway...
)
3) Finally, I use alcohol to wash my brushes! I know that brushes get a tremendous amount of bacteria build up. Your skin has tons of bacteria living on it and think of a brush just taking up some of that everytime it touches your face. With the oil that comes from your face... bacteria can form colonies and it is just a disgusting mess!
So alcohol is ESSENTIAL! Now, I know 50% ispropanol is probably not the best (I was CHEAP!) but some is better than none.
I followed EnkoreMakeup Brush cleanser recipe and it works great. 40% approxmiately is alcohol!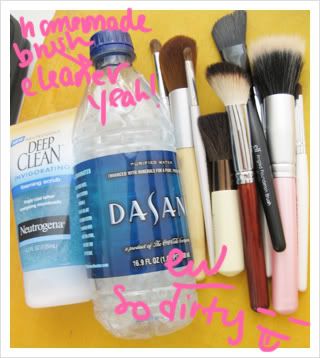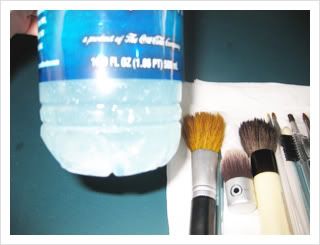 So I think that alcohol, no no, not talking about the stuff you drink (ethanol... and such) but ISOPROPANOL is very important as a disinfecting agent and also... powder mender.
I hope this helps someone out there :D
See ya! Thanks for reading and stopping by.