I haven't felt like writing anything in a while. I don't know why but I am exhausted and I feel like I wouldn't make much sense if I'd write a review or something. But, I do want to write something quickly before I go, so:
My 10 Fav. Shadows!
: Not my top 10... I thought this was my top but then I thought about it again and I decided that no... I like a lot more than just these. But the idea is to not choose 2 colors from the same palette... so you'll see more diversity here. Most of these are drugstore products. Definitely check these out when you stop by CVS or Walgreens or something.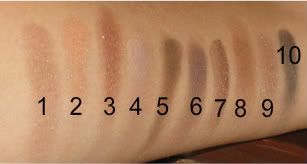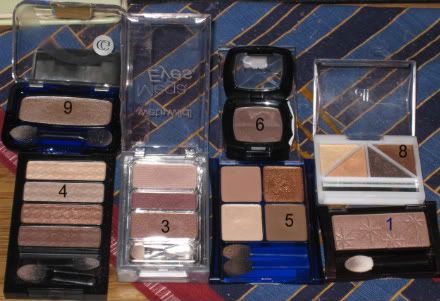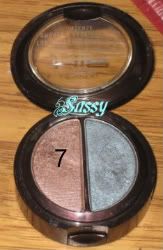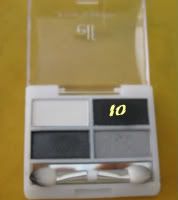 Not in any particular order!
#1: Maybelline's Beach Blush - I think this is Maybelline's newer formulation due to the dark brown packaging. This color really brings out my brown eyes. Don't know why! Very very pretty chocolate milk kinda color with a bit of silver shimmer (not so much though). Nice lasting power... pigmentation can be better.
#2: Lancome's Bikini Golden - very pretty light golden color. Very nice for lid shade. Very pigmented and easy to blend. Lasting power could be better.
#3: WnW's palette in Mojave Mauve - gorgeous taupe! GORGEOUS!! Looks great on the lid!! Or in the crease for a more subtle look. Very nice and shimmery and just amazing texture.
#4: Revlon's quad in Coffee Bean - LOVE LOVE LOVE this for my lid or as a blender shade (you know when you blend the edges of a darker shadow you use something close to your skin tone). But as you can tell, this is not just your typical nude shade. It has a cool undertone which makes it very unique. Really pretty and matte. Great for an everyday look. Just very versatile.
#5: Maybelline's Chai Latte - I use this everyday for my brows. It looks so good and natural on me! Great as a crease shade or liner shade. Even for a matte smokey look. Just a great shade!
#6: NYX's Root Beer - this color is LOVE! LOVE LOVE LOVE (Lady Gaga). The only complaint is the staying power. But this color has a plummy undertone so it is just unique!
#7: L'Oreal's HiP Duo in Sassy - this taupe color is so awesome! Use it for a smokey look or crease shade. AH - it is just gorgeous. Texture is amazing! This is the best shade EVER (MAC's Satin Taupe dupe).
#8: ELF's Butternut quad - My first neutral quad. I use this color as lid shade a lot! Also for subtle look I put it in my crease. Honestly - this is just a lovely bronzy, golden color. Goes with everyone I feel like.
#9: CoverGirl's Tapestry Taupe - another really unique color w/ a taupe look but silver undertone. VERY PRETTY. Of course, CG's singles are harder so texture isn't the best and pigmentation can be better. But I love this color for my lids. It just looks fantastic.
#10: ELF's Drama quad - the gray (not darkest) is so useful! I didn't think I want a quad w/ blacks and grays but this has helped me w/ so many things. More than I could imagine. Really great for lining and just deepen whatever shade is in the crease. Wish it would blend a bit easier but not hard to work with.
---------------
So these are my favs! Honorable mentions are:
NYX: Iced Mocha
Revlon quad: the coppery shade below the one I mentioned
ELF quad: The darker shade in the ELF
MAC's: sketch
mark: Minx
Just a bunch more! I've had pictures of all of these all over my pages so feel free to check it out.
---------------
I just want to know: What are some of your favorite shades?