Lady GaGa's new song... is stuck in my head. Great. But anyways, I just want to write something today because I KNOW that school starts tomorrow which means that posting will be a problem and commenting will also be hard.
Probably not this week - because it is only the first week back - but starting next week...
I have to get ready for my Pharmacy school interview!!!
Please, anyone have any advice on school interviews - especially pharmacy - let me know!!! I'm very EXCITED but very NERVOUS!!

PS. Is it important to wear a blazer? Do the blazer and the pants have to match in color. I have a black blazer and a gray pair of pants.
Okay, so this might be the best purchase of this month.
** As you know, one of my New Year resolution is to keep a budget of $20 a month... ha ha... fat chance. I already spent $30 and it is only the beginning of this month. BAD! I know. So I'm gonna stop for January.
So what is this purchase you ask? Well my friends, let me show you: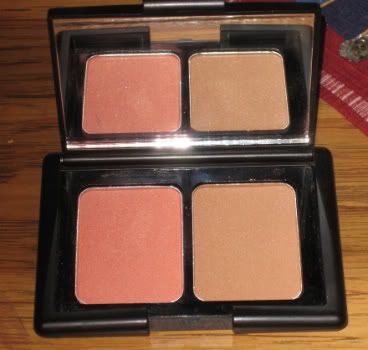 The ELF blush and bronzer duo set.
YES, YES YES, I absolutely adore this thing!! So, I'm just gonna do what I do best and write a pro/con list.
PRO
:
- CHEAP - 4g for $3 on the website
- The blush is just fantastic. It is a nice coral shade but unlike a lot of drugstore coral shade, this one is not light. It is a bit darker so I don't need to keep building the color but it is still a very natural look. It has enough pigment after one swipe of the brush. It has a bit of golden shimmer in it but it is not obvious when you wear it. I think this will give you a beautiful glow during spring and summer! (YES, I'm ready for those seasons now).
- The bronzer is soooo amazing!! AH it gives a beautiful warmth to my face. It just makes my face glow and tan. Again, this is a bit on the darker side so fair girls: do be aware. Also has a tiny bit of golden shimmer that won't show through too much. Overall, I really enjoy this color on my face. Not orange but more brown. Really fits the definition of BRONZER/TAN.
- I got complimented on the blush :D HE HE!!!!! You have no idea that much that makes me happy. I love being complimented but especially on my complexion.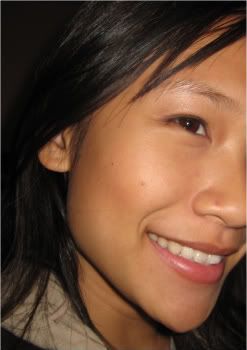 - The mirror/packaging is one of my favorite parts. I love this mirror!! It is HUGE! I put it up against my other mirror and did this whole optic illusion of a mirror inside a mirror inside a mirror... the point is... this mirror is an awesome size... and for traveling YES!!!! PERFECT size.
CONS
:
- If you have a lighter skin tone, this might be a bit too dark... but it doesn't hurt to try but just apply w/ a lighter hand.
- If you don't like shimmer... well this won't be for you either. But this thing isn't so obvious that people will be like - why is your face so shiny - it is blinding me.
- You have to order this online ** but I think it will come to Target soon though.
That's it. It really enjoy this product. If you haven't watched this already, Emilynoel83 did this "Emily Award" where she mentions this product.
Check it out.
---------------------------
To end this post, I just want to show you a school look that I've been trying out.. you know, for the upcoming semester.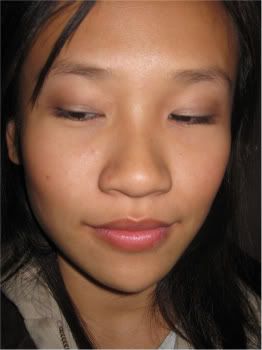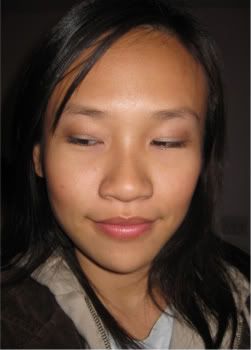 Very nice and neutral. Perfect for everyday! I used my Revlon quad in Coffee Bean.
Great quad!
---------------------------
Again, school starts tomorrow and I would like to apologize in advance if I take awhile to blog or to comment.
GOOD LUCK to anyone who's going to school and starting a new semester!!!! And lets make 2010 a good one!
Actually, I will end with a few pics to show you that SPRING IS COMING... or GLOBAL WARMING IS REAL!