No, my titles never make any sense...
BUT: this post is a review for the L'Oreal HiP duo Sassy and Sculpted. I've heard about them so much that I decided to get both. The best part was: I swapped for them! Yay. So I didn't really have to pay for much. Can you guys believe this and my Chai Love You lipstick is all that I own from L'Oreal? I guess it doesn't appeal to me as much.
Okay, so let's get to it:
Swatches for Sassy: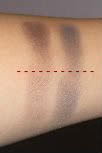 PROS:
- BEAUTIFUL texture!! So soft!!!!!
- Amazing to blend.
- The taupe color is amazing: Satin Taupe dupe!! W00t.
- Decent staying power
CONS:
- The darker bluer color looks beautiful in the pan... but not swatched or on the eye
- The colors together can be so MUDDY! The blue color will eventually just turn into the taupe color. I hated that.
- If you want a better pigmentation then use a cream shadow underneath. As you can see from the swatches, the top has cream shadows underneath. This step is important especially if you want that blue color to stand out. I think using like a white or lighter shadow will help.
Overall - I think it's worth it just for that taupe color. Honestly, that color is LOVE!!!!! And the texture is amazing! AMAZING :D I wore that taupe color all over my lids for New Years and for a party I went to on Monday night... (yeah, partying on Monday night! crazy college kids, let me tell you! Ha ha... just joking).
Swatches for Sculpted: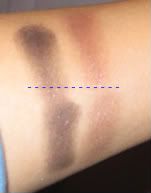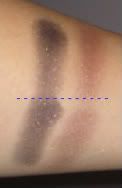 PROS:
- NICE pigmentation. You don't really need a cream shadow base (orimer base is needed though... for any shadows really)
- Very soft and nice texture (although not as nice as the Sassy duo)
- The pink color is nice as a lid color because it is wearable. Not BRIGHT pink... ya know.
CONS:
- The purple on the eyes leave very little purple. It looks very much like a dark, sorta almost just black color. Pretty red shimmers though.
- The darker purple also looks like a BRUISE color... so... becareful with that one. Use precise control!
Overall: I really like the pink but I didn't fall in love w/ the colors like I did w/ that taupe color from Sassy. However, I think this is pretty nice and the colors work together well. Cute colors for Valentines Day :)
----------------
I hope everyone is having a good day. Mine's not bad so far. First day of school did not SUCK... whoo hoo! It was actually pretty good :D Very odd, indeed.
BY THE WAY: I finally saw The Proposal and I really like it! I like because the story was cute. It was overly romancy and also Ryan Renolds is certainly a MAJOR eye candy. LOVE HIM! AND - Love Sandra Bullock. OMG, she made me laugh just as she did in Miss Congeniality. If you are a chick-flick kinda gal... I recommend it... the kiss at the end was very sweet... UNLIKE the kiss in "He's Just Not That Into You". Justin Long needs to learn how to on-screen kiss better!
I am at work so I am still able to write. Thanks for reading! Hope you guys stay tuned for more!