I watched the Golden Globes last night and I was actually pretty into it. Of course I was rooting for movies that I've seen and really enjoyed: Avatar, Sherlock Holmes, Inglourious Basterds, The Fantastic Mr. Fox. And shows that I really love: 30 Rock, House and such.
Of course the night was filled with Haiti support and they really tried to do as much as they can as celebrities to spread the words of a global effort to help the tragic nation. So many ways to donate: NBC.com or Redcross.com... a lot of ways.
But most of the night I was also distracted by the FASHION!!! Yes, what would a celeb award show be without the FASHION???
So I ask you guys to help me as I decide who had some of the best stuff. Of course I am no expert... these are just my opinions!! PLEASE SHARE YOURS.
All pics were taken from Just Jared and go there for bigger and better pictures!SIMPLE IS ALWAYS BETTER
:
Stunning natural beauties!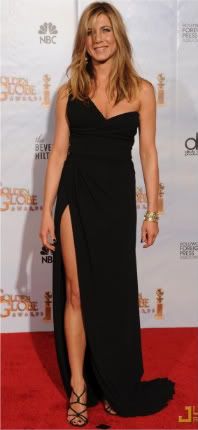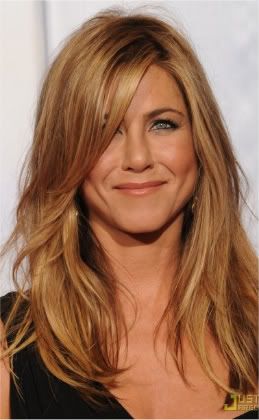 Jennifer Aniston looks gorgeous when she got onto the stage.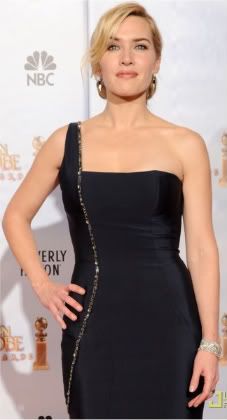 I've always adored Kristen Bell and Kate Winslet's elegance... no one can beat that.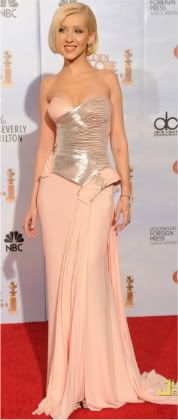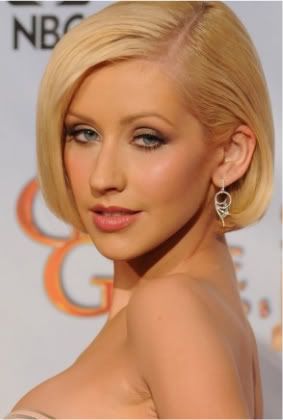 Not always a big fan of Christina Aguilera but I thought she looks pretty in this dress. And I love her make up too! Very fresh and elegant.
~ ** ~
BEAUTIFUL PURPLES
:
I couldn't stop looking at these gowns!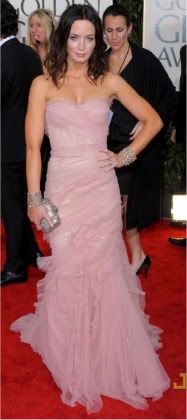 This is my favorite gown at the Golden Globes this year - worn by Emily Blunt. So classic and the color: GORGEOUS!! I love this kinda lilac/lavender color that just ease down from the top to the bottom.
I thought it was very nice how you can see her legs... but not completely. Very pretty. I don't like dark colors of purple of Sandra Bullock pulled it off very well.
~ ** ~
I NEED YOUR OPINIONS
:
I don't know if I like these or not...
I LOVE Zoe Saldana and the top of this dress is beautiful... but I feel like the bottom is too much.
I can't decide - the color is not the best... the design is not the best either! I do love Diane Kruger in Inglourious Basterds though.
I enjoy the pretty origami like design at the top and the color is fabulous! Also the piece on the shoulder is very unique and pretty. But the bottom... could be better. But Maggie Gyllenhaal has always one been one of my favorite actresses.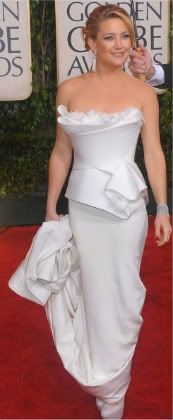 Eh... Kate Hudson looks better than she normally does but this dress confuses me.
~ ** ~
NOT SO MUCH
:
Better luck next time ladies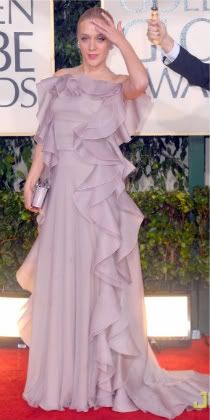 Gorgeous color but AHHH - too many things coming out of her...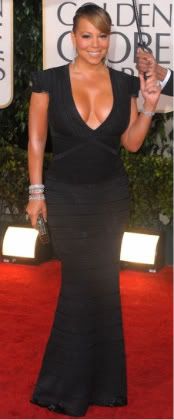 Really Mariah.... really...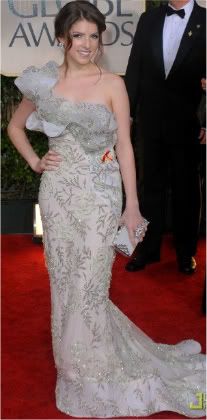 I'm happy that she has gone up from her Twilight Days but Anna Kendrick can look beautiful... just not in this.

I love her speech and I enjoy watching her in movies but this dress definitely did not come off well to me. Sorry Drew Barrymore, maybe you should take off those "Lady GaGa like" shoulder pieces.
~ ** ~
* Besides that - Yeah, go Monique... her speech was beautiful.
* ROCK ON AVATAR!! JAMES CAMERON AND THE CAST/CREW! ROCK ON... you guys stole the show w/ Best Director and Best Picture. Can't wait for the Oscars.
* Meryl Streep - you are too talented to be humble. But it is amazing that you are.
* Martin Scorsese's honor award was very touching. Of course I didn't pay attention his speech much.
* Sandra Bullock :D Robert Downey Jr :D :D
* I KNEW that Christoph Waltz was gonna get Best Actor - and probably will go on to win the Oscar too for his role in Inglourious Basterds. His performance was amazing.
~ ** ~
Obviously I love movies as much as beauty stuff. Stay tune for more things.
GUESS WHAT? I finally saw Hard Candy at my Walmart!!! So excited. It replaced the Max Factor stuff... so sad. I love my Max Factor 2000 Mascara.... UGH!