I know everyone's been doing this... but that is to be expected since 2009 is OVER! I really love these items - have recommended a bunch of times - it is time to put it all together!
1) Best Face Products: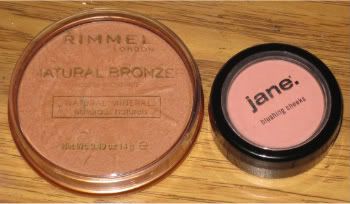 >> Rimmel's Natural Bronzer in Sunlight and Jane's Blushing Petal. These might seem like dull colors but they really make my life easy. Awesome colors that make me look natural but awesome!

2) Best Nail Polish: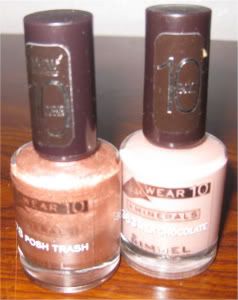 >> Rimmel's Lyca Wear in Posh Trash and Milk Chocolate. These needs base & top coats BUT they are awesome colors - especially Posh Trash. I think I wear that the most. BTW - horrible picture. The flash pretty much killed the colors.


3) Best Make Up Brushes:



>> Ecotools Blush brush, Coastal Scent's Pink Kabuki, and ELF eyeshadow brush. I use the blush and kabuki brush almost everyday... pretty sure EVERYDAY! And I use the eyeshadow brush every time I use eyeshadows. I mean, these are important, necessary, irreplaceable and CHEAP!


4) Best Lip Gloss:




>> CO Bigelow's Pink Tint - LOVE THIS STUFF!! Have this stuff everywhere I go with me. Will use this up like nothing else and probably will buy a million more! To bad they are a tad bit more expensive than what I am used to. But no worries, take advantage of the Semi-annual sales!


5) Best Eyeshadow Palette: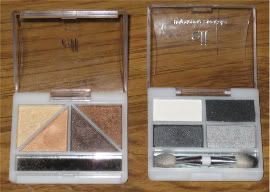 >> ELF Eye Brightening Quad in Butternut and Drama. Okay, these might not be the BEST to you but they are the BEST to me! The only thing is that they might not be as blendable as I would like (the darker shades in Drama) but that is all the complaint I will give. I love this stuff. ADORE them.


6) Best Eye shadows: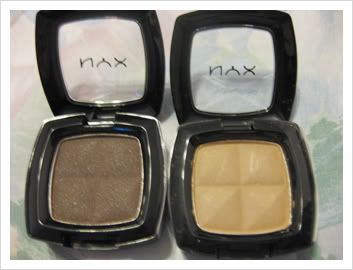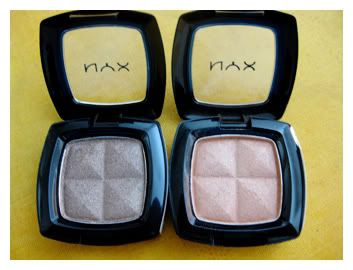 >> NYX has the best singles as far as drugstore goes. LOVE the texture, the pigmentation, the blendability (not a word), adorable packaging. Ha ha - BUT, one thing that I hate about these shadows is the staying power. They have crappy staying power even w/ a primer sometimes. Eh well - they are only $3-5 though.


7) Best Lipsticks: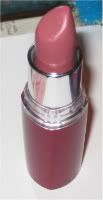 >> Maybelline's Moisture Extreme are amazing! I have 3 shades - Rosy Glow (my first lippy EVER!), Rum Raisin (I'm starting to fall in love w/ this color all over again(, and Winsdor Rose (which is in the picture!). High pigmentation, amazing moisture, and great color options. I doubt that you guys reading right now haven't tried these yet... but just in case you haven't set your lips on these little beauties yet, GO GET SOME! And YES, these are the best in my collection.


8) Best Fragrances: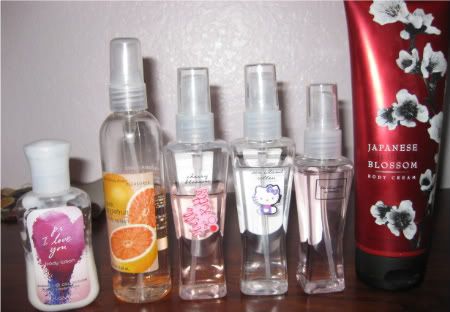 >> Anything Bath and Body Works is fantastic. So I would say the products from that store in general. From left to right - PS I Love You, Pink Grape Fruit, Cherry Blossom, Sea Island Cotton, Twilight Woods, and Japanese Cherry Blossom (which I kinda want the perfume version - also, best selling fragrance from BBW... correct me if I am wrong).


9) Most Disappointed Products of 09: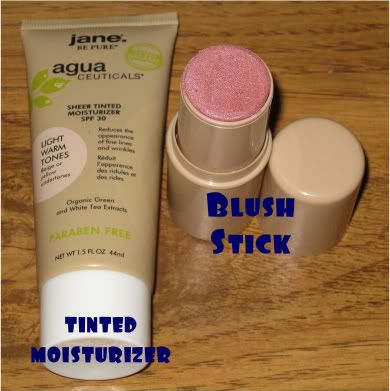 >> This doesn't fit w/ the rest but I had to say something about this line. Jane oh Jane oh Jane... I wish you came out w/ newer and better products yet you completely disappointed me. SIGH!


10) Best Youtube Beauty GURU:


>> There are so many amazing GURUs out there but MichellePhan's videos are to unique, artistic, and just beautifully done. It isn't just about the make up and I think that is just fan-frickin-tastic!

There ya go... Hope you guys enjoy. I would LOVE to hear what you have to say... or what your favorite products of 2009 are.